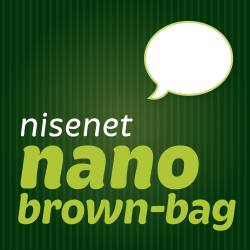 The NISE Net runs a series of online brown-bag conversations focused on helping partners share their work and learn from others in the Network. The aim of the online brown-bag conversations is to increase the number of professional development opportunities available to our partners, create more channels for Network partners to learn from each other directly, and create ways for you to follow-up on ideas or efforts that emerge at in-person meetings.
Nano for School Groups
October 1, 2013
11 am - noon PDT/2 - 3 pm EDT
Presenters
Lizzie Hager-Barnard of the Lawrence Hall of Science
Jamie Bonnett and Alison Luk of the KidsQuest Children's Museum
Kevin Dilley of the Sciencenter
Dawn Kirchner of the Boonshoft Museum of Discovery
Interested in discovering new ways to introduce nanoscience and nanotechnology? Join us for a conversation about incorporating nano into your programming for school groups. We will talk about best practices and tips for designing single short interaction modules that work well on field trips and afterschool programs. Bring your ideas and questions, as you'll have a chance to share your experiences and brainstorm with the presenters and the audience. If you're thinking about applying for a mini-grant, this will be a great opportunity to discover new ideas and learn about programs serving school groups that have been funded by NISE mini-grants.
Resources