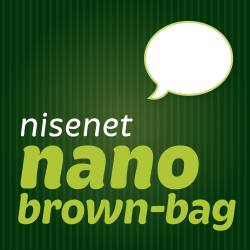 The NISE Net runs a series of online brown-bag conversations focused on helping partners share their work and learn from others in the Network. The aim of the online brown-bag conversations is to increase the number of professional development opportunities available to our partners, create more channels for Network partners to learn from each other directly, and create ways for partners to follow-up on ideas or efforts that emerge at in-person meetings.
Presentation Tips for Reaching Diverse Audiences
Tuesday, March 11th
11 am - noon PST / 2 - 3 pm EST
Presenters
Tim Hecox, Kari Jensen, and Verónika Nuñez of the Oregon Museum of Science and Industry (OMSI)
Renee Guerrero of the WOW! Children's Museum
Sheltered instruction helps English-speaking facilitators to reach participants who don't speak English, as well as those who have other language barriers such as hearing impairment or development disorders. This overview will outline when to use sheltered instruction, cover a few of the basic strategies and how the audience benefits from them, and share resources to find out more.
Resources