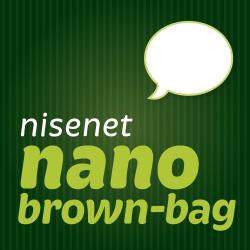 The NISE Net runs a series of online brown-bag conversations focused on helping partners share their work and learn from others in the Network. The aim of the online brown-bag conversations is to increase the number of professional development opportunities available to our partners, create more channels for Network partners to learn from each other directly, and create ways for partners to follow-up on ideas or efforts that emerge at in-person meetings.
The Science Behind NanoDays 2015 - Part 2
Tuesday, March 17, 2015
3pm - 4pm ET / 12pm - 1pm PT
Presenter
Are you interested in learning more about the science behind the NanoDays activities? Do you want to know more about how the NanoDays activities are related to cutting-edge research? Then please join us for an exciting presentation and discussion. 
This brown-bag will focus on the applications and scientific background behind NISE NET activities related to food and microscopes. We will cover a variety of past and present NanoDays activities, including the following ones from the NanoDays 2015 kit:
The contents of the NanoDays 2015 physical kit are online and available to download!
Please note that this brown-bag is not a tutorial on the NanoDays kit. This is one of two brown-bags focused on the science behind NanoDays kit activities. The two brown-bags will focus on different topics and you are welcome to participate in one or both.
Resources 
Follow Up Discussion
During the brown-bag, we discussed how nanotechnology is being used to reduce the amount of salt in our food. There was a question about whether this was being done with sugar as well. I had assumed it was, but when I did another search I didn't find much. This was surprising, since I would have guessed that many of the strategies for reducing salt would also work for sugar. One thing that occurred to me is that there are already sugar alternatives, like NutraSweet and stevia. So maybe food companies are less interested in finding ways to reduce sugar given these competitor products.
At the beginning of the presentation we played a video for SodaLo (Tate & Lyle). The link for this video is https://www.youtube.com/watch?v=sFfXsCZJUq4 (As I mentioned, at 0:51 an interesting note appears in the bottom left corner: "Label claims may vary. You are advised to conductor your own tests and regulatory review…".)
During the webinar we also played a video about Super-Resolution Microscopy. The version we played was shortened; the original video can be found here: https://www.youtube.com/watch?v=E-goSpv7gj8. Alternatively, if you'd like to have our shortened version you can download it here.
If you'd like to read more about the topics discussed during the brown-bag, check out slides 44, 45 and 46 for more resources. Or check out these interesting articles about nano and food:
There are also a number of other NISE Net resources related to food/water: