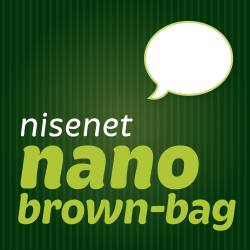 The NISE Net runs a series of online brown-bag conversations focused on helping partners share their work and learn from others in the Network. The aim of the online brown-bag conversations is to increase the number of professional development opportunities available to our partners, create more channels for Network partners to learn from each other directly, and create ways for you to follow-up on ideas or efforts that emerge at in-person meetings.
Universal Design of Programs Workshop Follow-Up
October 28, 2013
10 - 11 am PDT/1 - 2 pm EDT
Presenters
Anna Lindgren-Streicher of the Museum of Science, Boston
Scott Pattison of the Oregon Museum of Science and Industry
As a follow-up for those who participated in July's universal design workshop, this online brown bag will explore what some institutions have done to make their educational programs more universally designed. Participants will have a chance to discuss lessons learned as they implement universal design or team-based inquiry in their own institution, share resources, and hear about successful approaches used by other institutions.
Please note that this is not intended to be an introduction to universal design. Those wishing to get an introduction to universal design for public programs can view the recording of the previous NISE Net online workshop.
Resources