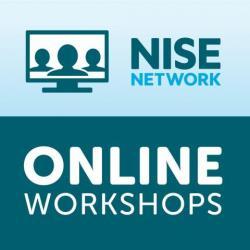 The NISE Network runs a series of free online workshops to increase the number of professional development opportunities available to our partners, and create more channels for partners to share their work and learn from each other directly.
Online Workshop: Celebrating Earth Day 2020 at Home
Tuesday, April 7, 2020; 2 - 3pm  Eastern / 11am - 12pm Pacific
View the recording and resources from the online workshop here
Each year the global community comes together to increase awareness for the planet we live on and to learn about environmental crises ranging from pollution to climate change to endangered species. April 22, 2020 marks the 50th anniversary of Earth Day, which first began in 1970 launching a national and international environmental movement and is now recognized as the planet's largest civic event. 
This year, Earth Day celebrations will look a little different as we all try our best to practice social distancing and protect the health of local communities amid the COVID-19 pandemic. Join us to learn more about how we can all get a little creative and still celebrate this year's 50th anniversary of Earth Day and Earth Week (April 18-26). Together, let's explore resources and ways to host online and at-home Earth Day and Week activities and events.
Presenters
Brad Herring, Museum of Life and Science
Darrell Porcello, Children's Creativity Museum
Jeannie Colton, Arizona State University
Nich Weller, Arizona State University
NISE Network Community
Resources
---
Acknowledgements
This material is based upon work supported by NASA under grant or cooperative agreement award number 80NSSC18M0061.  Any opinions, findings, and conclusions or recommendations expressed in this material are those of the author(s) and do not necessarily reflect the view of the National Aeronautics and Space Administration (NASA)