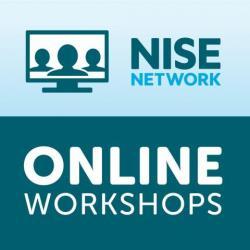 The NISE Network runs a series of free online workshops to increase the number of professional development opportunities available to our partners, and create more channels for partners to share their work and learn from each other directly.
Extending Your Earth & Space Science Exhibits - Free Multimedia Resources from NASA's Universe of Learning, NASA's Eyes, and the NISE Network
Tuesday, November 27, 2018
11am - 12pm Pacific / 2pm - 3pm  Eastern 
Are you looking for ways to add low-cost interactive technology to your soon-to-be delivered Sun, Earth, Universe exhibition or other Earth & space science exhibits on your floor? Maybe you want to add a dynamic window into NASA images and missions in a quiet space of your museum? Join us for a live one-hour workshop where our guest speakers will demonstrate: ViewSpace, a web-based, self-updating multimedia exhibit showcasing NASA's latest discoveries about the universe; NASA's Eyes, a publicly available visualization system that allows users to virtually ride along with NASA missions by zooming-in to realistic simulations of planets, moons, and stars; and finally the new mobile website for the Sun, Earth, Universe exhibition for visitors to explore NASA multimedia during and after their trip to the museum.  Learn how to start using these resources today and hear from experts how to best leverage this technology for your visitors.
Presenters
Timothy Rhue II, NASA's Universe of Learning, Space Telescope Science Institute
Kevin Hussey, NASA's Eyes, NASA Jet Propulsion Laboratory
Darrell Porcello, NISE Network Earth & Space, Co-I
---
Workshop Resources
---
About the Project
---
Acknowledgements
This material is based upon work supported by NASA under cooperative agreement award numbers NNX16AC67A and 80NSSC18M0061. Any opinions, findings, and conclusions or recommendations expressed in this material are those of the author(s) and do not necessarily reflect the view of the National Aeronautics and Space Administration (NASA).