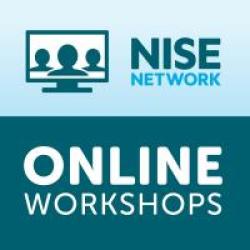 The NISE Network runs a series of free online workshops to increase the number of professional development opportunities available to our partners, and create more channels for partners to share their work and learn from each other directly.
Learn More About the 2018 Explore Science: Earth & Space Toolkit
Tuesday, September 12, 2017; 2 - 3pm  Eastern / 11am - 12pm Pacific
Join NISE Network partners to learn more about the Space and Earth Informal Science Education (SEISE) project, and how your organization can become more involved in this exciting opportunity. In this online workshop, we'll present a general introduction to the project and an overview of what's in the new 2018 Explore Science: Earth & Space toolkit, including information about how to apply for a toolkit and eligibility requirements. We'll also hear from partners who received a 2017 toolkit and hosted Earth and Space events. Toolkits applications are open to both new and existing NISE Network partners located in the United States.
Presenters
---
How to Apply for a 2018 physical toolkit
---
Workshop Resources
---
About the Project
---
Acknowledgements
This material is based upon work supported by NASA under grant or cooperative agreement award number NNX16AC67A.  Any opinions, findings, and conclusions or recommendations expressed in this material are those of the author(s) and do not necessarily reflect the view of the National Aeronautics and Space Administration (NASA).