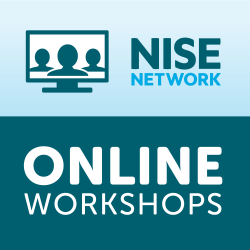 The NISE Network runs a series of free online workshops to increase the number of professional development opportunities available to our partners, and create more channels for partners to share their work and learn from each other directly.
Online Workshop:

NISE Network Partner Reopening Strategies - Part 1
Tuesday, May 26, 2020; 2 - 3pm  Eastern / 11am - 12pm Pacific
View the recording and resources from the online workshop here
Over the past month(s), shutdowns have caused our institutions to rethink and redesign the ways in which we engage our communities. Now, many of our NISE Network partners are looking toward the challenge of reopening our doors once restrictions are lifted. What can your organization do to make visitors feel safe, and how can you protect the health and safety of your staff? Which programs and events will you continue to offer virtually, and which programs will you be able to responsibly offer in-person while adhering to local, state and federal guidelines? And how can you think creatively to preserve your organization's core identity and impact while adjusting to new circumstances? Join us for an informal discussion on strategies and approaches to navigating the reopening of our doors to the communities we love to serve.
Presenters
Brad Herring, Museum of Life and Science
Laura Huerta Migus, Association of Children's Museums
Diane LaFollette, Mid-America Science Museum
Meagan Downey, Robinson Nature Center
Aaron Pan, Museum of Texas Tech University
---
Acknowledgements
This material is based upon work supported by NASA under grant or cooperative agreement award number 80NSSC18M0061.  Any opinions, findings, and conclusions or recommendations expressed in this material are those of the author(s) and do not necessarily reflect the view of the National Aeronautics and Space Administration (NASA)