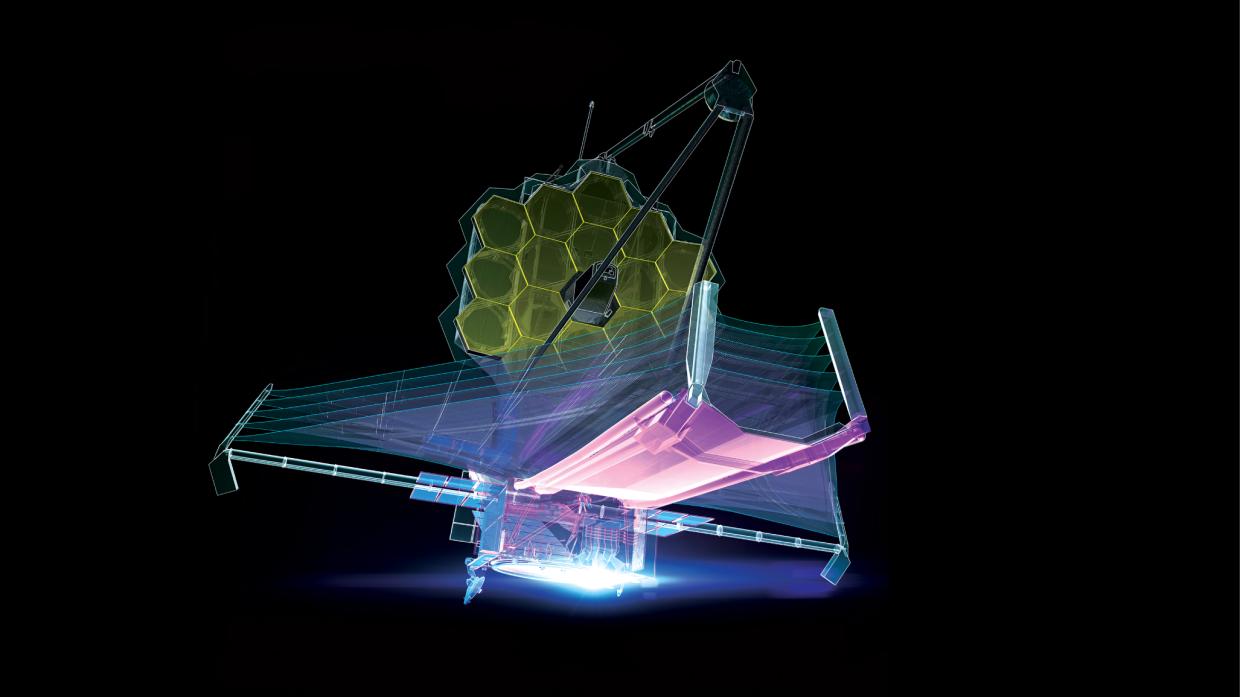 Latest news
Latest news: https://jwst.nasa.gov/content/webbLaunch/news.html

 

The James Webb Space Telescope has arrived at its final destination, about 1 million miles (1.5 million kilometers) from Earth; the telescope will orbit around Lagrange point 2 (L2) on the far side of Earth from the Sun. In this orbit, Webb can maintain a safe distance from the bright light of the Sun, Earth, and Moon, while also maintaining its position relative to Earth.
 
---
Hosting a Community Event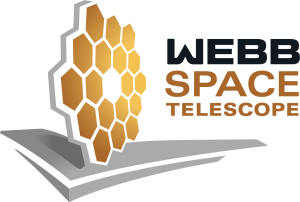 The James Webb Space Telescope (Webb) is the largest, most powerful and complex space telescope ever built and launched into space. NASA and its partners want to share the experience of the Webb Space Telescope's first images with communities all over the United States and abroad. NASA and its partners invite community organizations to celebrate the first images from the James Webb Space Telescope. Webb, the most audacious scientific endeavor to understand the nature of the universe, has reached its orbit point a million miles from Earth and in July 2022 when it sends its first images back to Earth.The goal of this NASA initiative is to create and nurture generations of science enthusiasts, including underserved audiences, through long-term, meaningful engagement with Webb's discoveries.
Map of official NASA Community Event for First Images 2022 locations
The map and list of selected NASA Webb Space Telescope community events is now available. https://outerspace.stsci.edu/display/WSTCE/Official+Community+Events

You can still host an event if you aren't an "official" NASA Webb community event! 
There are still many resources available for hosting events.
Resources for Community Events 
NASA Webb Space Telescope Community Event resources: 
Many free downloadable resources available to host an event including example events, activity guides, multimedia, logos, printable materials, powerpoint slides, and more:  
https://outerspace.stsci.edu/display/WSTCE

NISE Network Online Workshop Recordings

NASA Museum & Informal Education Alliance (log in required):
https://informal.jpl.nasa.gov/museum/content/james-webb-space-telescope-resources-informal-educators
James Webb Space Telescope Website for Public Engagement Materials has many multimedia resources demonstrating the science behind the telescope and will eventually host all scientific images:
https://webbtelescope.org/
Science Writer's Guide designed to assist media personnel, writers, and educators, in their efforts to understand the telescope, and in turn, educate others about the mission:
https://webbtelescope.org/news/webb-science-writers-guide
More about the mission
https://jwst.nasa.gov
In depth science blog posts
https://blogs.nasa.gov/webb/
---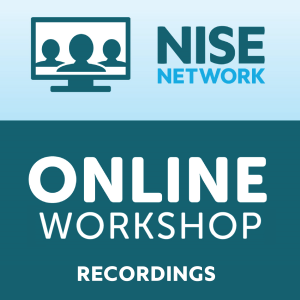 Professional Development Workshops

---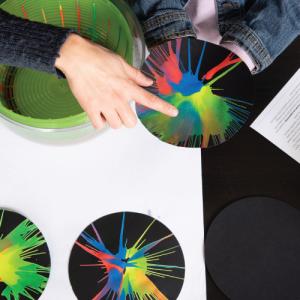 Hands-on Activities
Related NISE Network activities
More Hands-on Activities
Spanish language materials
---
Slides
A set of public presentation slides including talking points, scripts in the notes pane, adaptation suggestions for different audiences, and video links is now available for download.
---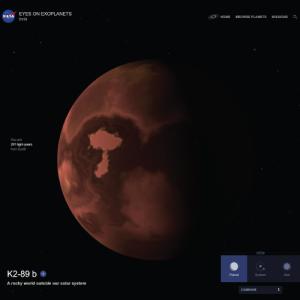 Multimedia and Interactive Resources
Explore exoplanets using NASA Eyes
https://eyes.nasa.gov/apps/exo/#/
---
NASA Images
---
NASA Videos
---
Resources for Planetariums / Domes
---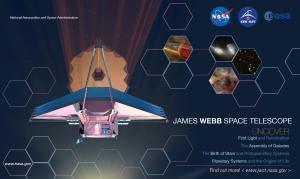 Printable Materials and Posters
---
 Finding and Collaborating with Subject Matter Experts
Find Subject Matter Experts for your James Webb Space Telescope event! 


Request an expert here: https://outerspace.stsci.edu/display/WSTCE
Please submit your request ideally 2 months in advance
 
NASA's Universe of Learning works to ensure that Subject Matter Experts (SMEs) are paired with educators and learners in a way that makes sense. If you are working on a product or an event and have an opportunity that could be enhanced with a SME, please follow the link Request a

SME for a Learning Activity


 
Volunteer experts are a key ingredient to many successful public engagement efforts.
Volunteer networks focused on astronomy and space with searchable databases by your location include:
---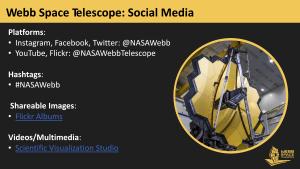 Social Media
Follow Webb using #NASAWebb on NASA's social channels, Twitter and Facebook and Instagram Platforms:
---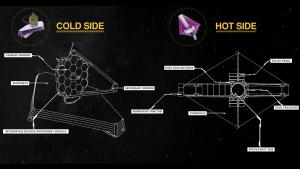 Telescope Measurements for Life-Size Comparison Activities
How big is the mirror? 
Webb's segmented primary mirror has a diameter of 6.6 meters (21.7 feet). Each of the 18 segments is 1.32 meters (4.3 feet) across. The area of the mirror is approximately 25 square meters (270 square feet) and the mass is 705 kilograms (1,550 pounds on Earth).
How big is the telescope? 
The sunshield dimensions are 21.2 by 14.2 meters (69.5 by 46.5 feet) and the height of the entire observatory is 8 meters (28 feet).
Spacecraft Diagram: https://webbtelescope.org/contents/media/images/4194-Image
---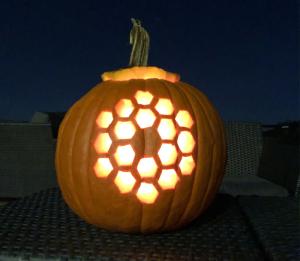 Pumpkin Carving
---
Exhibits
Host your own Webb inspired art exhibition
JWST Art Exhibition - Print out your own copy of artwork created by 22 artists, and encourage students and the public to participate in creating their own artwork, poetry, sculptures, and stories
Art Challenge
---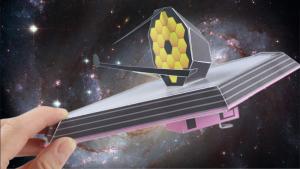 Paper Models 
---
3D Printing  
---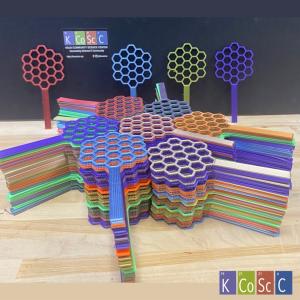 3D Printed Bubble Wands
Kauai Community Science Center in Hawaii made use of a 3D printer to create hundreds of James Webb Space Telescope (JWST) themed bubble wands and JWST models. In addition, they partnered with The Hawaiʻi State Public Library System for a reading challenge and a JWST model brown bag activity for visitors to take home. Check out the 3D printed bubble wands here: https://www.facebook.com/382651265048/posts/10159475099350049/?d=n and the take-home brown bag activity here: https://www.facebook.com/106802647334807/posts/634643971217336/?d=n
Have your own 3D printer? Print bubble wands of your own here: https://www.thingiverse.com/thing:2995336
---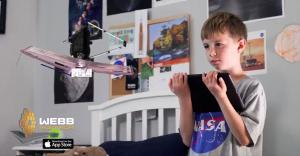 Augmented Reality (AR) App
NASA has developed an augmented reality to be used with an iPhone or iPad to place a floating virtual model of Webb in your surroundings, take photos, and learn all about this incredible mission. In augmented reality, you can place a full sized, virtual model of the Webb telescope outside or you can adjust the size and virtually place it on your desk or kitchen table.
Download free for iOS
---
Additional Astrophysics and Space Telescope Resources