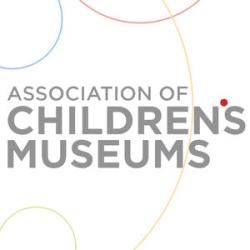 Association of Children's Museums (ACM) Interactivity Conference 
May 13-28, 2021 Virtual Conference
Theme: Care, Connect, Create Resilience
---
Registration: https://childrensmuseums.org/interactivity/interactivity-2021/registration
Program: https://childrensmuseums.org/interactivity/interactivity-2021/interactivity-2021-program
Session Recordings: All training sessions will be recorded and will be available for registered attendees to view for 30 days after the conclusion of the conference. 
---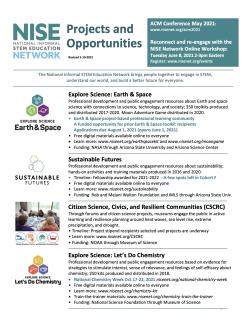 Virtual Booth Office Hours
May 13, 2021 - May 27, 2021
Tentatively scheduled during the conference break each day: 2:30 p.m.–3:30 p.m. Eastern
The NISE Network will have a "booth" at the virtual conference. Using the InterActivity Mobile App: Meet Now, attendees should be able to instant message us anytime. We will also have office hours daily, tentatively scheduled during the afternoon break. Stay tuned for more info about office hours, locating us in the exhibitor directory of the mobile app, and how you will be able to connect with us via Zoom or another platform.
Projects and Opportunities 
---
Brain Dates & Peer-to-Peer Roundtable Discussions
Friday, May 21, 2021
3:30 p.m.–5:00 p.m. Eastern
The NISE Network will moderate conversations as part of the conference Brain Dates and Peer-to-Peer Roundtable Discussions. These opportunities will take place concurrently, and participants will sign up by choosing a topic of interest (not by selecting a conversation moderator, thus you will not see the NISE Network listed with our topics).
For a list of Peer-to-Peer Roundtable Discussion topics (Brain Dates TBA):
 https://childrensmuseums.org/friday-may-21-sessions
---
Sessions
Thursday, May 27, 2021
11:00 a.m.–12:30 p.m. Eastern
How to Make Your Museum Great: Evaluation Your Team Can Do to Improve Your Educational Offerings 
The pandemic has led many museums to develop new types of products and practices. Yet, limited social interactions make it difficult to know what our audiences need and whether our new products are working as intended. Team-Based Inquiry (TBI), developed by the National Informal STEM Education Network (NISE Net), empowers museum professionals to gather the data they need, when they need it, to improve their products and practices. A practitioner-led evaluation model, TBI involves posing inquiry questions, collecting data to investigate those questions, analyzing and reflecting on the data, and making changes to improve practice.
This session draws on NISE Net's TBI resources—including a published guide with handouts and activities, a suite of videos, and prior training materials—with a new, digital spin. First, participants will hear from a practitioner about how museum professionals around the country with no prior evaluation experience have used TBI to improve their work. Next, participants will learn about the four stages of TBI. Finally, participants will work in small groups with an evaluation mentor to design and implement a mini-TBI study about a digital product. Participants will receive follow-up resources to continue their learning.

Elizabeth Kunz Kollmann, Manager, Research and Evaluation, Museum of Science, Boston
Katie Todd, Senior Research Associate, Museum of Science, Boston
Allison Anderson, Senior Research and Evaluation Assistant, Museum of Science, Boston
Leigh Ann Caulfield, Strategy and Communication Manager, Museum of Science, Boston
Rae Ostman, Co-Director, Center for Innovation in Informal STEM Education, Arizona State University