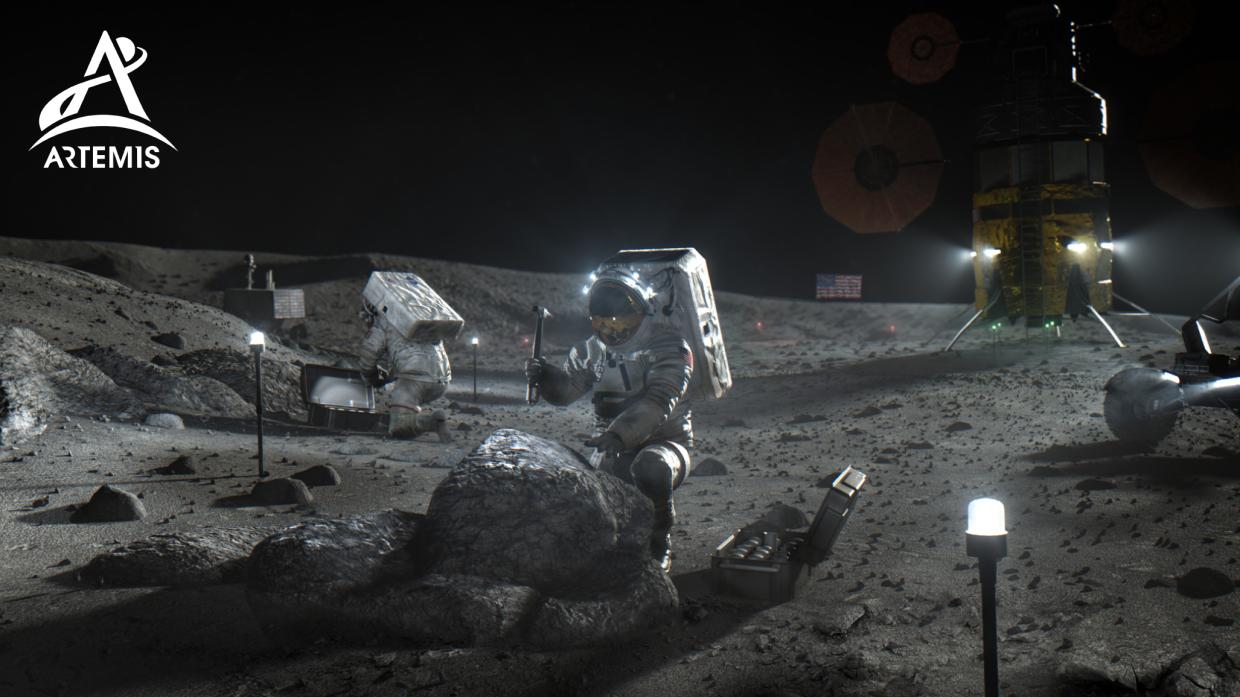 The NISE Network has compiled the following resources to help engage the public in the Moon, the Apollo missions and Artemis missions. 
---
Hands-on Moon activities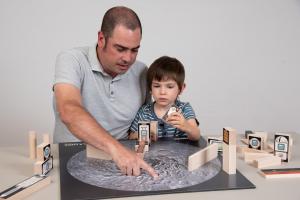 NISE Network hands-on moon activities and the year of the Explore Science: Earth & Space toolkit year is noted below:
---
Moon Adventure Game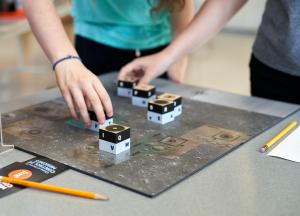 ---
Additional Earth & Space Activities 
NISE Network Earth & Space toolkits of hands-on activities
digital versions of toolkits are available as a free download:
More NISE Network hands-on activities
NASA and more hands-on activities
---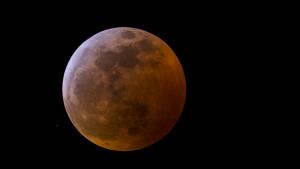 Lunar Eclipse resources
2021 Lunar Eclipses: May 25-26, 2021 and November 18-19, 2021
---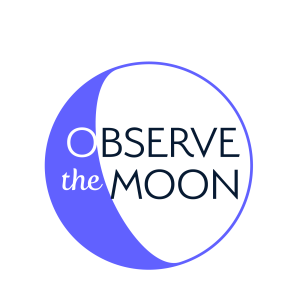 Observing the Moon
Moon Viewing Guides

NISE Network activities:

International Observe the Moon Night 
October 21, 2023 
---
Finding STEM Experts
---
Printable take home handouts for the public
---
NASA Artemis Program
NASA is committed to landing American astronauts, including the first woman and the first person of color on the Moon under the Artemis program.  https://www.nasa.gov/specials/artemis/
---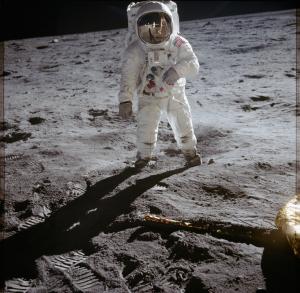 NASA Moon general resources
---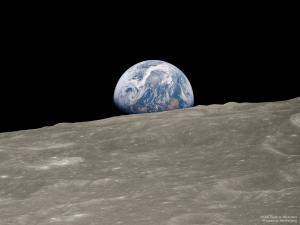 Logos, Images, and Artwork
---
Photos and images of the Moon
---
Posters
---
Books for Story Times and Programs
Breakfast Moon picture book by Meg Grower and illustrated by David Barker (book was included in the Explore Science: Earth & Space 2019 toolkit)
Happy Birthday, Moon Asch, F. (2014). Aladdin.
Science Adventures with Max the Dog Series Bennett, Jeffrey (2008-2015). Big Kid Science. Grades 2-4; fiction
Faces of the Moon Crelin, B. (2009) Watertown, MA: Charlesbridge. Grades 1 – 4
Moon Base Alpha Series Gibbs, Stuart (2013-2016). Simon & Schuster Books for Young Readers. Grades 3-7; fiction
The Moon and how to observe it Grego, P. (2016). Firefly Books. (ISBN-13: 978-1770857155) Appropriate for older youth and adults
A Moon of My Own Rustgi, Jennifer (2016). Dawn Publications (ISBN-13: 978-1584695738) Grades PreK- 3.
Moon: a Peek-Through Picture Book Teckentrup, B. (2018). Random House Children's Books.
Phrases of the Moon Lewis, J. Patrick. 2018. [S.I.]: Creative Co.
Hello to You, Moon Morgan, Sally. 2018. [S.I.] Little Hare
Library resources
---
Moon cultural stories 
---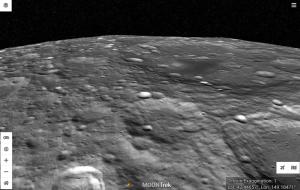 Multimedia and interactive resources
https://eyes.nasa.gov/apps/orrery/#/moon
Augmented Reality (AR) and Virtual Reality (VR)
NASA Moon Trek Favorite Fly Alongs:
NASA Moon Trek can be used with Google Cardboard of VR Goggles 

Virtual Reality Library: NASA Solar System Treks has developed a set of favorite fly-alongs including Apollo landing sites on the Moon and possible future landing sites on the Moon
Go to https://trek.nasa.gov and scroll down to "Virtual Reality Library" 
Instructions: Watch the video of how to use QR codes with Trek Virtual Reality and find links to the "Virtual Reality Library" of tours 

NASA Moon Trek Custom Virtual Reality tours can be created 
NASA Moon Trek can be used with Google Cardboard of VR Goggles 

Instructions: Open the Tools panel to draw a path to float along with full 360 views.  You can also watch a video about using QR codes, watch the short video below to see how it works with Trek Virtual Reality: https://trek.nasa.gov

Augmented Reality (AR) printable posters or sheet and downloadable free app (set includes Moon landscape)
https://www.lpi.usra.edu/AR/?fbclid=IwAR2gY6T-9m7pTCCIAL-khv1BPg_sru12W…
---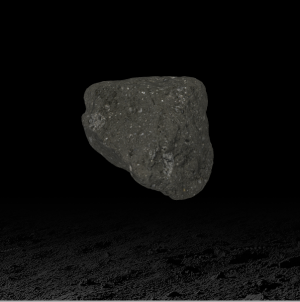 3D images of lunar and meteorite samples
3D printing resources
---
Apollo Moon Landing Anniversary
---
During the Apollo program of the 1960s and '70s, NASA sent nine missions to the Moon. Six of them landed astronauts safely on the surface, the only times humans have visited another world.  July 20, 2019 marked the 50th anniversary of the first humans landing on the Moon on July 20, 1969  as part of NASA's Apollo 11 lunar mission. 
What was the Apollo program?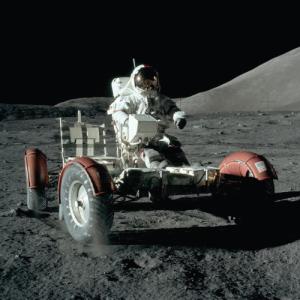 Apollo Moon Landing volunteer and staff orientation slides
Video - Apollo landing sites visualization video produced by NASA's Moon Trek team (included in the NISE Network 2019 Earth & Space toolkit). Closed Captions are now available, see the video's description on Vimeo for more information on how to access them.  
https://vimeo.com/317054974
Night Sky Network amateur astronomer slides from Astronomical Society of the Pacific "To the Moon" presentation
https://nightsky.jpl.nasa.gov/download-view.cfm?Doc_ID=639
---
Moon Landing and Apollo's 50th Anniversary resources
---
Online Workshops for educators
---
Apollo Moon Landing anniversary event planning 
---
Apollo Moon Landing volunteer and staff orientation slides
Video - Apollo landing sites visualization video produced by NASA's Moon Trek team (included in the NISE Network 2019 Earth & Space toolkit). Closed Captions are now available, see the video's description on Vimeo for more information on how to access them.  
https://vimeo.com/317054974
Night Sky Network amateur astronomer slides from Astronomical Society of the Pacific "To the Moon" presentation
https://nightsky.jpl.nasa.gov/download-view.cfm?Doc_ID=639
---
Moon landing Images and Videos
---
Moon landing films
---
Planetarium Shows
---
NASA Visualizations of the Moon and Apollo program
---
Historical Image and Videos Collections of the Apollo program
---
Apollo oral history project
NASA invited the public to contribute to an oral history project about the Moon exploration and includes a list of suggested questions: https://www.nasa.gov/apollostories
---
Snoopy - Peanuts - Charlie Brown connection
In May 1969, Apollo 10 astronauts traveled all the way to the Moon for one final checkout before the lunar landing attempt. Because the mission required the lunar module to skim the Moon's surface to within 50,000 feet and "snoop around" scouting the Apollo 11 landing site, the crew named the lunar module "Snoopy." The Apollo command module was labeled "Charlie Brown."  There are some new resources you may want to use for your events: