Chemists Celebrate Earth Week at the Museum of Science: Visitors Dive into Marine Chemistry!
May 1, 2018
On April 8, the Museum of Science, Boston in collaboration with the Northeastern Section of the American Chemical Society (NESACS) hosted a day of hands-on activities for Chemists Celebrate Earth Week centered around this year's theme of "Dive into Marine Chemistry."
Our colleague Dr. Jayashree Ranga, Assistant Professor of Chemistry at Salem State University and CCEW coordinator for NESACS, recruited over 80 guest educators from 10 different local schools and organizations. Before the start of the public event, the guest educators gathered at the museum for a short training that reviewed safety policies and some tips for facilitating activities with a broad range of museum visitors. As part of this training, guest educators watched the NISE Net's Speeducate video to learn about effective facilitation techniques, and then had an opportunity to experience an activity, "Gum and Chocolate," from the point of view of a visitor rather than a facilitator. Because of its wow factor and relative simplicity, this activity is a great training tool and will be included as such in the Explore Science: Let's Do Chemistry kit ("Gum and Chocolate" also works great when facilitated with public audiences, which we did during last year's CCEW event when the theme was "Chemistry Feeds the World!"). The kit will also feature a new video focused on facilitating chemistry activities, informed by the design-based research findings of the NSF-funded ChemAttitudes project.
Over 700 museum visitors of all ages engaged in fun filled marine chemistry-related activities and more throughout the day. Many of the activities invited visitors to explore the unique properties of water, try various tools scientists use to test water samples, and investigate the human impacts on our oceans.
Above: Students from Gordon College in Wenham, MA explain the ABC's of Ocean Acidification – watch their award-winning video here: https://www.youtube.com/watch?v=krC9gsLMw3U
The "What's in the Water?" activity, which will also be included in the Explore Science: Let's Do Chemistry kit, allows visitors to test the salinity, pH, and temperature of water samples and think about how these qualities influence aquatic ecosystems and the relative safety of the water to drink or use for other purposes.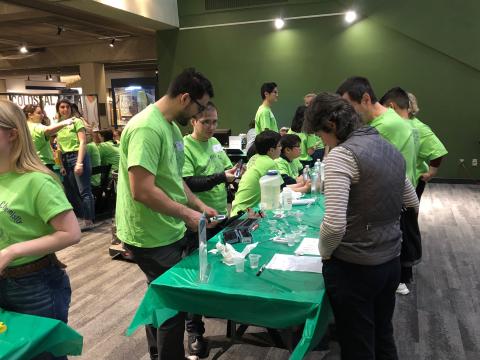 Some of the other activities included testing the conductivity of water, learning about how bioluminescent organisms and light sticks glow through chemistry, demonstrating ocean acidification and its impacts on marine organisms, and exploring the density of fresh water and ocean water. Two activities also investigated how to clean up oil spills, one of which is a longer program and will be included in the Explore Science: Let's Do Chemistry kit.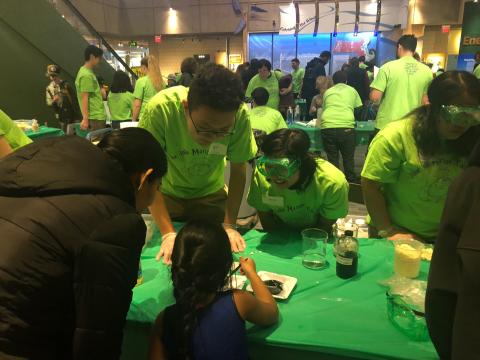 Visitors also had the chance to try the new NanoDays activity "Buy it, Or Better Not?" developed by Arizona State University. "Buy it, Or Better Not?" invites visitors to think about what products they might use in their everyday lives that contain titanium dioxide (TiO2) by having a conversation with their peers about the costs, risks, and benefits of including nanoparticles in products such as chewing gum and sunblock. Throughout the day, both visitors and guest educators stopped by the station to read through the product cards and decide if they would buy it, think about it, or decide they better not by placing the card in the appropriate shopping basket.
Thanks to our guest educators, Dr. Ranga, and other partners, this year's Chemists Celebrate Earth Week event was a success!  For over two decades, the Museum of Science has been hosting National Chemistry Week events, and we're already working hard planning a day-long event on October 21st of activities and demonstrations for National Chemistry Week 2018. The theme for this year is the chemistry of outer space, so it's going to be…"Out of this World!" and we'll be using many of the activities from the Explore Science: Let's Do Chemistry kit.
Apply now for a free physical Explore Science: Let's Do Chemistry kit; applications are due by June 1, 2018. 
You can also watch a recent online workshop to learn more about the activities and resources available in the Explore Science: Let's Do Chemistry kit.
To learn more about the Museum of Science's Chemists Celebrate Earth Week and National Chemistry Week events, contact David Sittenfeld at [email protected].