April 4, 2022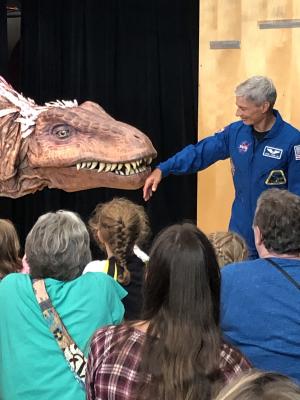 NASA astronaut Mark Vande Hei has become the U.S. astronaut with the single longest spaceflight in history! The previous record of 340 days had been set in 2013 by astronaut Scott Kelly. The NASA astronaut returned to Earth in Kazakhstan on Wednesday, March 30, along with Roscosmos cosmonauts Anton Shkaplerov and Pyotr Dubrov after 355 days in space.
Photos of Mark Vande Hei during a visit to the Science Museum of Minnesota in Saint Paul, Minnesota during the 50th anniversary of the Apollo Moon Landing back in 2019. His visit included a presentation, meeting visitors, and getting sniffed by a life-sized juvenile Tyrannosaurus rex puppet.

All photos courtesy of the Science Museum of Minnesota.