July 1, 2022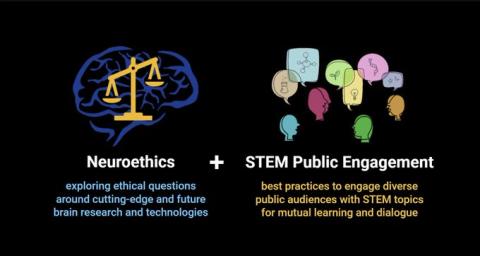 Jayatri Das (Chief Bioscientist at The Franklin Institute) and Claire Weichselbaum (Barbara Gill Civic Science Fellow at Arizona State University) recently gave an interactive presentation as part of the Congressional BRAIN Initiative Briefing on the importance of neuroethics. The presentation includes a short poll activity giving just a taste of some of the content the NISE Network Changing Brains project team is working on. 
 
The Brain Research through Advancing Innovative Neurotechnologies (BRAIN) Initiative is a large-scale effort led by the National Institutes of Health and other federal agencies with the goal of advancing our understanding of the body's most complex organ. In recent years we have seen unprecedented progress in the basic sciences of mind and brain and in the treatment of psychiatric and neurological disorders. Now, neuroscience plays an expanding role in human life beyond the research lab and clinic. In classrooms, courtrooms, offices, and homes around the world, neuroscience is giving us powerful new tools for achieving our goals and prompting a new understanding of ourselves as social, moral, and spiritual beings. 
 
This June 23, 2022 Congressional BRAIN Briefing was organized in collaboration with the The American Brain Coalition, American College of Neuropsychopharmacology, Dana Foundation, International Neuroethics Society, and Simons Foundation, in cooperation with the Congressional Neuroscience Caucus.
 
The panelists focused on the responsible use of advances in brain science and the importance of fostering civic engagement.  Jayatri Das and Claire Weichselbaum emphasized the role of bidirectional dialogue between scientists and members of the public, translating scientific perspectives for broader audiences and gathering community perspectives to inform research and policy directions. Jayatri shared findings from the 2019 Changing Brains landscape report co-authored with Darrell Porcello, another member of the Changing Brains team, which identified promising directions for expanding neuroethics public engagement. Claire then demonstrated an example of how the Changing Brains project is translating key neuroethics issues – such as data privacy, identity, and autonomy – into simple but powerful public engagement tools.
Congressional BRAIN Initiative Briefing on the Importance of Neuroethics
Recorded June 23, 2022
https://www.youtube.com/watch?v=a1WZnOgnVq4&t=2104s
---
More Resources: