September 28, 2023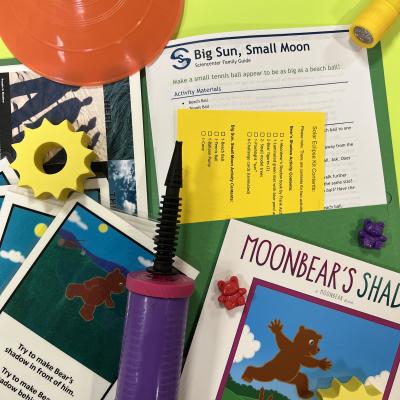 In preparation for the October 2023 annular solar eclipse and the April 2024 total solar eclipse the Sciencenter in Ithaca, NY partnered with the Finger Lakes Library System (FLLS) to create eclipse kits for all the libraries within the system. 
We had been working with libraries within our county for some time – supporting programming and STEM engagement throughout the pandemic. We were able to co-create (and test) a lot of different types of programming with each library to see what best worked to engage the local community. 
As part of a new partnership, a FLLS Member Services Librarian, Heidi Eckerson, reached out requesting support for the libraries within the FLLS to engage librarians and patrons on the upcoming solar eclipses. Like other organizations in our area, the librarians were all excited about engaging their communities in a once in a lifetime phenomenon, especially given that the Path of Totality for the Solar Eclipse on April 8th, 2024 runs along the top of the Finger Lakes. With the primary goal to make eclipses easier to understand and teach, we decided together to make kits that not only educators (like the librarians) could use but that would also support families learning together at home. 
With funding from NASA's Universe of Learning Informal Learning Network we were able to tailor activities and resources to develop kits that could be checked out by the general public and used together to support library programming. These kits included adapted activity guides and materials for NISE Net's Bear's Shadow and Big Sun, Small Moon as well as additional tools and resources that connect shadows and eclipses to NASA science and our exploration of the universe. 
With the help of our summer youth employees, we were able to put the kits together in record time and get them out to libraries in the system along with an online training on the science behind solar eclipses, learning and engagement, and safety. This interactive workshop included background information about the two upcoming eclipses along with time for us to explore the activities with the librarians, answer questions, and play with materials.   
---
Resources

NISE Network compilation of Solar Eclipse resources:
https://www.nisenet.org/solareclipse
---
Acknowledgements
NASA's Universe of Learning materials are based upon work supported by NASA under award number NNX16AC65A to the Space Telescope Science Institute, working in partnership with Caltech/IPAC, Center for Astrophysics | Harvard & Smithsonian, and Jet Propulsion Laboratory.
Any opinions, findings, and conclusions or recommendations expressed in this material are those of the author(s) and do not necessarily reflect the views of the National Aeronautics and Space Administration.