A total solar eclipse is coming to North America!
Monday, April 8, 2024, a total solar eclipse will be seen in the US from Texas to Maine; all of North America will have at least a partial solar eclipse.
How Can You See It?
You never want to look directly at the sun without appropriate protection.  That could severely hurt your eyes. However, there are numerous safe ways to view an eclipse.  Please see safe viewing techniques below.
---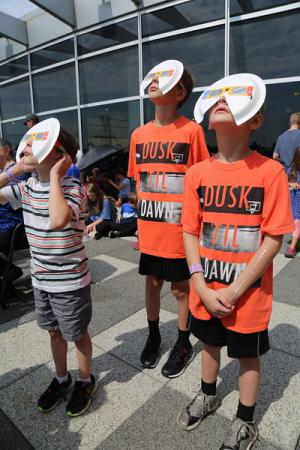 Resources
---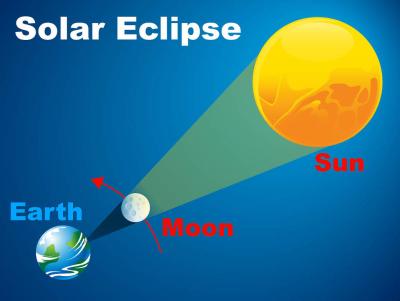 During a solar eclipse the the Moon passes between the Sun and Earth and blocks all or part of the Sun. During a total solar eclipse, the Moon lines up perfectly to fully block the Sun; in a partial solar eclipse, the Moon only blocks part of the Sun; and during an annular eclipse, alignment is perfect but the Moon is too far away from the Earth to completely obscure the Sun. 
This is different from a lunar eclipse, when the Earth blocks most of the sunlight that normally reaches the Moon. In a solar eclipse, the Sun gets darker; in a lunar eclipse, the Moon gets darker.  Visit our lunar eclipse page to learn more.Watch this NASA video to learn more about the different roles of the Moon in lunar and solar eclipses.
More about solar eclipses: https://solarsystem.nasa.gov/eclipses
---
April 8, 2024 total solar eclipse (Monday)
Where Can You See It?
You can see a partial eclipse, where the Moon covers only a part of the Sun, anywhere in North America (see "Who can see it?"). To see a total eclipse, where the moon fully covers the sun for a short few minutes, you must be in the path of totality. In 2024 the path of totality is a relatively thin ribbon, around 70 miles wide, that will cross the U.S. from Southwest to Northeast.  States on the path of totality include: Texas, Oklahoma, Arkansas, Missouri, Illinois, Indiana, Kentucky, Ohio, New York, Vermont, New Hampshire, and Maine.

When Can You See It?
Times for viewing the eclipse vary depending on your location. These interactive maps will show you times for anywhere in the world.  
More Upcoming Eclipses
---
NISE Network activities: (available in English and Spanish)
More activities:
---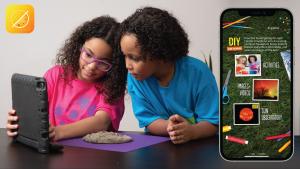 DIY Sun Science App 
DIY Sun Science includes 15 easy-to-use hands-on activities to learn about the Sun and its important relationship with Earth. Learn how to cook in a solar oven, measure the size of the Sun, or explore shadows in model Moon craters! Each activity includes step-by-step instructions that have been tested by educators, kids, and families. Activity materials are easily available and inexpensive. PDF versions of hands-on activities are also available for download in both English and Spanish.
---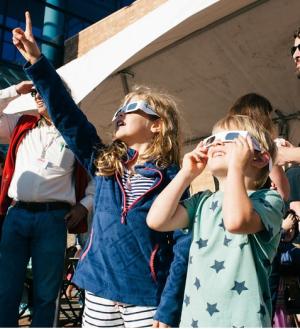 You never want to look directly at the sun without appropriate protection.  That could severely hurt your eyes.  However, there are numerous safe ways to view an eclipse.  
An eclipse is a rare and striking phenomenon you won't want to miss, but you must carefully follow safety procedures. It is vital that you protect your eyes at all times. The only safe way to look directly at the uneclipsed or partially eclipsed Sun is through special-purpose solar filters, such as eclipse glasses or handheld solar viewers. Homemade filters or ordinary sunglasses, even very dark ones, are NOT safe for looking at the Sun. 
Safe Viewing Techniques

Eclipse Glasses 

How to Tell If Your Eclipse Glasses or Handheld Solar Viewers Are Safe 
https://eclipse.aas.org/eye-safety/iso-certification
Can I use my existing eclipse glasses? How to make sure your viewers are in good condition

Look at a bright light (not the Sun) and make sure there aren't any holes.
If the filters are torn, scratched, or punctured, discard them.
If the filters are coming loose from their cardboard or plastic frames, discard them.

Protect and store your eclipse glasses

Store your solar viewing glasses safely to use again in the future using an envelope; you don't have to wait for a solar eclipse to use your glasses to view the Sun
STARnet DIY storage case activity: Make a Protective Case for Your Solar-Viewing Glasses
Partner tip: Churro bags fit solar eclipse glasses well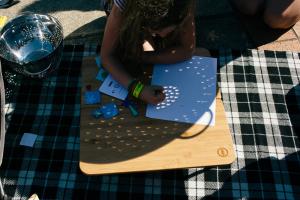 Shadows, Pinhole Viewers, and Projections

There are many ways that you can safely enjoy a partial or total solar eclipse
---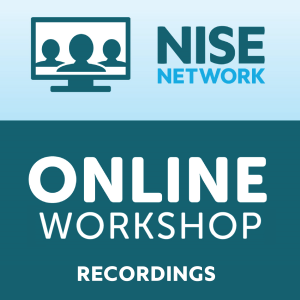 Tips for hosting a solar eclipse viewing event

If possible, plan many months in advance!

A spacious location outside with horizon lines that will allow viewing (e.g. field or parking lot rather than forested area), can accommodate large crowds, and have necessary amenities for visitors

Staff and volunteers to support the event by answering questions, facilitating activities, and demonstrating safe viewing

Viewing equipment like projection techniques (DIY pinholes, colanders), solar eclipse viewing glasses, or special filters for cameras and telescopes. In case it's cloudy– or even if it's not– have a live stream set up! 

NISE Network Online Workshops for 2023 and 2024 Solar Eclipse Event Planning

Astronomical Society of the Pacific and Eclipse Ambassadors:

Neurodiversity planning - setting expectations

AAS Community Planning for the 2023 and 2024 Solar eclipses  

Funding Opportunities for April 2024 engagement events

Archive of Planning resources from the 2017 total solar eclipse
---
---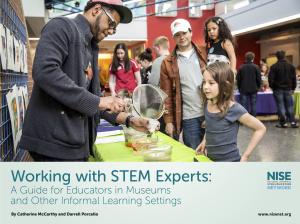 We encourage you to seek out local experts for your public events.  Many astronomy enthusiasts plan to travel to the path of totality, but many will be staying closer to home, so please check out all of these different resources to find experts near you:  
---
The Exploratorium will be live streaming the solar eclipses in 2023 and 2024 in multiple formats including on mobile devices; options include telescope imagery without narration as well as educational programming and narration in English and Spanish:
---
A solar eclipse presents many opportunities for amateur astronomers and lifelong learners to get in on the fun of doing science. 
---
---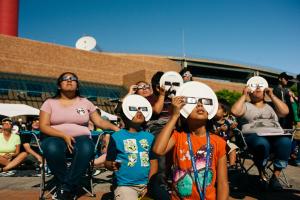 Images and videos of solar eclipses and people experiencing for educational and promotional purposes
---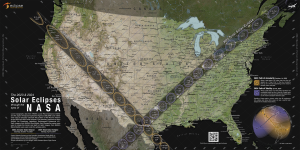 ---
---
---
For public audiences:
For educators: 
Video of people experiencing a solar eclipse: 
---
---
---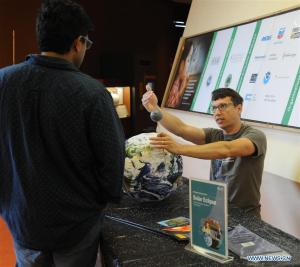 ---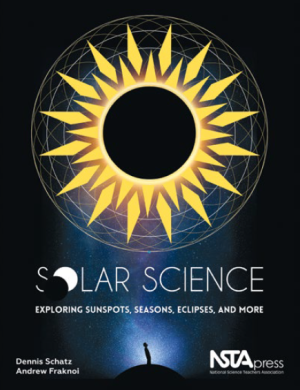 ---
NISE Network strives to share STEM public engagement resources designed to for all audiences, including blind and visually impaired participants. For more information about how NISE Network products are designed with an inclusive audiences approach using Universal Design principles, visit https://www.nisenet.org/Audiences.
Getting a Feel for Eclipses
available from NASA SSERVI Tactile and Braille Books https://sservi.nasa.gov/books/
(copies were included in the 2017 NISE Network Explore Science: Earth & Space toolkit)
---
Night Sky Storytelling