October 4, 2021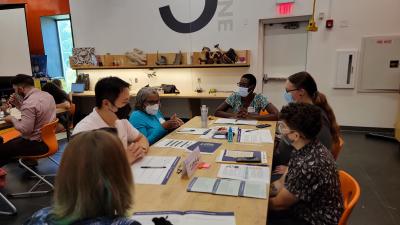 Gene editing, what does that actually mean? How will my fellow Phoenicians feel about the topic? Will I be a horrible facilitator? What if I spill coffee all over my new slacks? Will there be good southwest tacos for the provided lunch?! Do I actually need a sweater for the event?! All of these thoughts were racing through my head while I took the Phoenix metro to the Arizona Science Center. 
Just a few weeks before, my colleague heard of the opportunity to help facilitate a public forum on gene editing that was being led by The Museum of Science in Boston, The Arizona Science Center, and Arizona State University. He promptly recommended I volunteer as a group facilitator and it seemed like a good fit. Let me tell you, oh dear reader, it was an experience for sure! 
If you've never done something like this, it's incredible how all the cogs work together. You apply to be a facilitator, and they ask you typical qualification questions. If you are selected, then you move on to the training. This particular training had a neat little background info packet on Gene Editing and was paired with a two-hour-long Zoom training session. From there, there is a little bit of homework to be done before the event, and if you are like me, you start to envision every possible scenario that could happen while at the event. Mentally I was prepared, and a little expecting, to facilitate a group of feisty debaters that could only be matched with the energy of a Judge Judy episode. However, what I had was a great representation of the Phoenix Valley, willing to discuss opposing viewpoints and listen to the other side. I was floored and a bit touched at how these strangers were still able to listen and give each other the open space to explore ideas on what can be an easily divisive topic.
While facilitators are being selected, cogs are moving to get the physical space ready to hold the forum and different cogs are moving to select a diverse background of participants. The event itself couldn't have gone any more smoothly! The hosting institution, the Arizona Science Center was so well prepared, staffed, and welcoming to both facilitators and forum participants that it felt like they've done this a million times (spoiler alert: they are pros at hosting forums because they have done it many times before). I was blown away by the participants that were selected as well! It was such an astonishing representation of the Phoenix valley area. Diverse racial backgrounds, ages, career fields, income, educational backgrounds. On and on it went, I could believe just how well thought out everything was.
The event went on as planned. We started off as a larger group where two lead facilitators proposed questions and led us through discussion. We would break off into our smaller groups, have a more focused conversation, then come back together as a larger group and repeat. Each facilitator was provided with a paper guide that was literally word for word what to say if we needed some help. If you are ever in the opportunity to facilitate something like this, trust me when I say, Use The Facilitator Guide, It Is Your Friend! It seriously helped me keep my group on track and help bridge ideas and sections together.
The day went on without any issues. The lunch provided was a great assortment of salads and delicious local subs, no coffee was spilled on my slacks, my group was great and very involved. I will note, that despite all of the Arizona Science Center's attempts of warning me beforehand of how cold it can get in the area we were in, I chose not to adhere to their warning and left my sweater at home. Lesson learned! Overall I loved the opportunity to participate; I would recommend it to anyone if you get the chance to do it! It's a great way to connect with your community around science and help capture their voices and thoughts for the greater scientific community.   
Resources: