November 1, 2021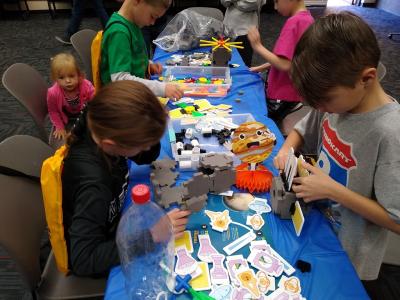 The community of Sierra Vista, Arizona is hosting numerous outreach and public engagement programs this fall to celebrate the launch of the James Webb Space Telescope. Elizabeth Wrozek, curator for the Henry F. Hauser Museum, Ted Forte from the Patterson Observatory, and the Huachuca Astronomy Club of Southeastern Arizona collaborated to bring space science and astronomy education resources to Sierra Vista's wider community including neuro-diverse adults and children.  
It has been a great partnership according to Wrozek because "Ted is really devoted to public outreach and astronomy education and has been an amazing resource for the city—he's helped at the museum, library, family programming, and soon therapeutic recreation."  The Patterson Observatory has been a NISE Network partner and recipient of NISE Network's Explore Science: Earth & Space toolkits for quite some time.  Along with their generous time commitment to space science education, they're generous with their toolkits by making them available to their community partners.  
For the Webb Space Telescope events that happened and will happen over the course of October and November, Elizabeth's museum used three different NISE Network activities—Nebula Spin Art, Stomp Rockets, and Design, Build, Test.  They used these multiple times and had two programs focused on special needs audiences.  (Arizona State University compiled a full list of Webb Space Telescope celebrations taking-place across Arizona in October and November, and Sierra Vista is well represented!)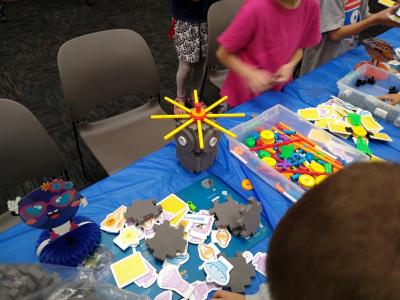 Here are some of the public programs offered in Sierra Vista during October 2021:
Stomp Rockets with Echoing Hope Ranch, October 4th: 

Echoing Hope Ranch staff and adults with autism joined us to build and launch stomp rockets.

Far Out Art at the Pottery Studio, October 9

th: 

Children ages 5-13 created and glazed clay disc planets and made Nebula Spin Art.

BYO Spacecraft & Stomp Rockets, October 16

th: 

Children ages 6-12 built their own spacecraft and tested it using the Design, Build, Test activity, they also made and launched stomp rockets.

Sensory Space Exploration, October 16

th: 

This program was geared towards children with special needs, but open to kids of all ages and abilities. It featured all three of the NISE Network kits mentioned above, a mission control dramatic play area with constellation activities, a crater impact drop zone, and a sensory planet activity station.
A lot of their programming concentrated on engaging new audiences about the Webb Space Telescope which the kits were highly instrumental in doing. Having these STEM resources, and in the case of the Nebula Spin Art STEAM resources, helped to reach younger audiences with varying interests that they could then educate on the kit topics and also engage on the science behind Webb and how it will fundamentally change our understanding of the universe.
The Sensory Space Exploration program was by far Elizabeth's favorite. It was an inclusive event that sought not only to engage audiences on Webb and provide STEM resources, but to bring children of all abilities together around common interests and recreation. She believes it is important to not only create normative experiences for special needs individuals, but to increase interaction with and understanding of that community. As said above, they used all three of the mentioned kits and had other sensory activities available. The NISE Network kits were great to bring normative kids to the program, while our sensory stations pulled in our special needs community. But, Elizabeth emphasized that the special needs kids really enjoyed the NISE Network activities as well! Especially the Nebula Spin Art which is a great activity for non-neurotypical kids. 
Elizabeth recounted how "An autistic boy named Brandon came to the Sensory Space Exploration program. He had his noise cancelling headphones on, but was still feeling overwhelmed in a new environment with new stimuli. We welcomed his mother and him at the front, letting him know that we had our own sensory room for him to decompress in if he wanted. They passed on that for the moment, so I led them over to the Nebula Spin Art station because it had been so popular with other kids on the spectrum. Brandon was leery at first, but once he got some paint in there and began pressing the button to spin it all around, he was absolutely enthralled. His anxiety ceased almost immediately, and after doing a few nebulas, Brandon happily went on to explore the other stations. It seems like a small moment, but for our special needs community, those moments are the big ones."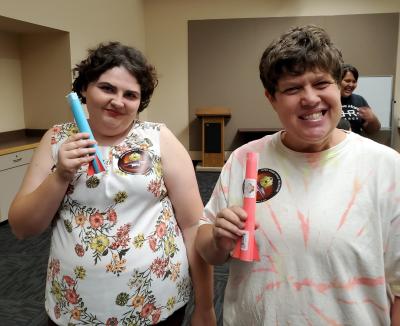 As for the neuro-diverse adults, Sierra Vista has a great Therapeutic Recreation program to keep neuro-diverse adults active and engaged. Elizabeth said that "it is so important to reach out to our neuro-diverse adult community, because even more than special needs kids, they can be isolated. Having a variety of activities with new people and new experiences helps to build their confidence and enhance social skills. It also helps them to feel more comfortable in other new experiences."  
And fun activities there were! Activities like a Webb Space Telescope themed cosmic bowl, a tour of a multi-site Webb Space Telescope exhibition, and on October 4th in collaboration with the Echoing Hope Ranch staff, they did NISE Net's Stomp Rockets activity. These were great experiences for this group and Elizabeth's goals reach beyond helping neuro-diverse adults. "It also helps [neuro-diverse adults] feel more comfortable in other new experiences. Along with that, it helps increase empathy and understanding in neurotypical people. Having inclusive programs and pulling in different groups and people to partner is an enriching experience for all involved."
This inclusivity extended to the Sensory Space Exploration program mentioned previously. The program was inclusive to all ages, not just children. Elizabeth mentioned how, "Nathan Hoston is a neuro-diverse adult with Down Syndrome who loves space and wanted to attend the Sensory Space Exploration program. His mother Raquel contacted me, and I loved it, but was concerned that he may feel out of place as the only participating adult. So instead, I asked if Nate would like to volunteer with me so that he could enjoy the activities while also taking a leadership role. He had a great time! I will definitely be asking him to help at future programs, too. Also, getting to meet Nathan and see how social he is and active he likes to be, we were able to provide resources for him to get into our Therapeutic Rec program and he is now helping coach in the Avengers Special Needs Sports program, giving him another opportunity to be a mentor and leader."
We at the NISE Network are grateful for the efforts of Sierra Vista, the Patterson Observatory, and the Henry F. Hauser Museum, to make Earth and Space programming more inclusive for people in their community.
If you are planning Webb Space Telescope programming, we hope that you find ways to incorporate the NISE Network resources as you engage new audiences from your community.
More Resources: