October 29, 2021
In celebration of the upcoming James Webb Space Telescope launch, Westchester Children's Museum, located in Rye, NY, will explore the wonders of the universe with special programming and activities on November 13th! Chosen as one of NASA's 500 celebration partners, the museum is highlighting new and existing exhibits and programs that explore all things space.
The James Webb Space Telescope is set to launch on December 18, 2021, and will be looking farther into the cosmos than ever before. Scientists at NASA will use the telescope to look at ultraviolet and visible light emitted from the very first stars that formed in the early universe. It will also be a powerful tool for studying our solar system, as well as planets that orbit other stars. 
NASA-related activities and exhibits (no admission required) at Westchester Children's Museum start in their reception area and workshop room, and feature free NASA prizes! Activities can also be found outside with celestial day-viewing on the boardwalk with the Westchester Amateur Astronomers. In addition, there will be special discounted admission pricing for the rest of the museum and the MakerSpace will be space-themed to celebrate this exciting launch event. Some of the featured activities and exhibits in the MakerSpace include giant to-scale planets from our solar system (pictured), STEM experiments, and space-related arts and crafts!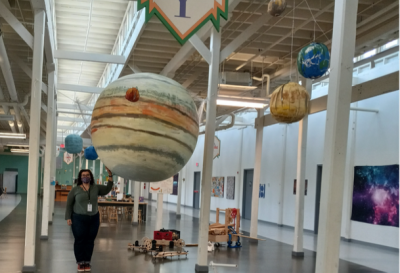 Lisa Archigian, the Artistic Coordinator for Westchester Children's Museum got creative when she crafted the planets now suspended over the expansive MakerSpace. A 6-foot beach ball serves as the base for Jupiter, and a 5-foot beach ball for the base of Saturn. Using this scale, the museum is able to emphasize how much larger the gas giants are than the rocky planets. The distance between the planets is also to scale. Each one hangs from the ceiling in a floating display of the solar system. Pluto even gets to make an appearance at the far end of the room! 
In the name of extraterrestrial exploration, the museum will also feature Make an Alien and Space Community Building activities in their MakerSpace. To address what astronauts eat in space, they have partnered with Evergreen Aviation & Space Museum to experiment with how astronaut food is made.