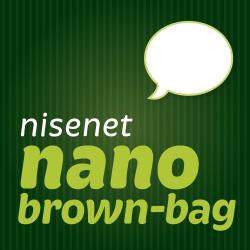 The NISE Net runs a series of online brown-bag conversations focused on helping partners share their work and learn from others in the Network. The aim of the online brown-bag conversations is to increase the number of professional development opportunities available to our partners, create more channels for Network partners to learn from each other directly, and create ways for partners to follow-up on ideas or efforts that emerge at in-person meetings.
Improving NanoDays Trainings with Team-Based Inquiry - Partner Examples
Tuesday, March 3, 2015
3pm - 4pm ET / 12pm - 1pm PT
Presenters
Sarah Cohn from Science Museum of Minnesota
Abby Goodlaxson from Maryland Science Center
Rachel Carpenter from Children's Discovery Museum
Did you see that book or those digital files about something called Team-Based Inquiry (TBI) in your NanoDays kit? Are you wondering what they are all about? Join us as we talk about Team-Based Inquiry, an evaluation-capacity building process developed by the NISE Network, and discuss a couple of different ways you can think about improving your institution's events, programs, or trainings using TBI! We will cover what TBI is before providing examples from Network partners about how they have used it to create better staff and training programs around nano.
Resources
Brown-Bag Partner Presentation Slides:
Video Examples: