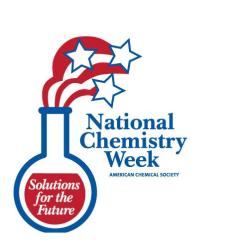 National Chemistry Week is a community based program of the American Chemical Society (ACS). This annual event unites ACS local sections, businesses, schools, and individuals in communicating the importance of chemistry to our quality of life.

National Chemistry Week 2014's theme is:
The Sweet Side of Chemistry – Candy
Showcasing the chemistry involved in candy and confections
---
For more information:
NISE Network National Chemistry Week page: 
featuring nanoscience, technology, and engineering activities for the public suitable for National Chemistry Week.
American Chemical Society (ACS) National Chemistry Week website including information on how to get involved, publications, publicity materials, and more
---
National Chemistry Week Mission
The mission of National Chemistry Week is to reach the public, particularly elementary and secondary school children, with positive messages about chemistry to:
Make a positive change in the public's impression of chemistry;
Promote a mechanism for effectively mobilizing ACS local sections; and
Motivate the ACS membership through local section activities.