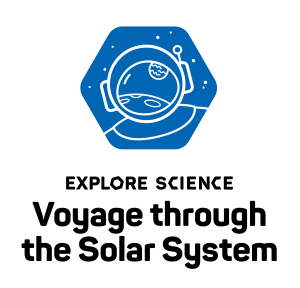 Project Description
New toolkit of hands-on STEM (science, technology, engineering, and math) activities based on NASA's continuing pursuit of human exploration of the Moon and Mars and a mobile app that launches users further into the solar system. Physical and digital resources will be shared to leverage local partnerships to engage diverse audiences and support at home STEM learning beyond museum walls.
---
Downloadable Kit Resources
https://www.nisenet.org/solarsystem-kit
Companion Apps with Hands-on Activities
DIY Sun Science App
DIY Solar System App
---
Opportunities 
Physical kits will be distributed to 350 eligible institutions. Digital materials will also be freely available. 
How to Apply for a Physical Kit
Applications were due May 15, 2023; we are no longer accepting applications.
Overview: 
The overview includes application instructions, eligibility requirements, and project expectations.
Please read the overview and preview the application before applying:
Online submission: 
Applications must be submitted online using Alchemer (SurveyGizmo):​  
Preview the application (just for reference; application must be filled out online):
---
Project Timeline
2021 - 2023: Activity development, prototyping, and testing
2022: DIY Sun Science App launches
2023: March -  physical kit application opens
2023: May 15 -  physical kit application deadline
2023: July - kit award notifications
2023: Late Summer - physical kits distributed
2023: Late Summer - Voyage though the Solar System Kit available online

2023: November 1 - partners who received a kit are required to submit an online report describing current or planned use of the resources (a report template will be provided)

2023: DIY Solar System App launches
2024: Implementation continues
---
Project Partners
The project is led by the Sciencenter in Ithaca, NY
Project team members and advisors include:
Children's Creativity Museum, San Francisco, CA
Arizona State University, Tempe, AZ
Museum of Life and Science, Durham, NC
Science Museum of Minnesota, Saint Paul, MN
Lawrence Hall of Science, University of California Berkeley, CA 
SPIF, Cornell University, Ithaca, NY
Emily Maletz Graphic Design, Portland, OR
Swift Creek Media, Raleigh, NC
Yellow Cow Consulting, San Francisco, CA
Partnerships include:
NASA STEM Engagement
NASA Human Exploration and Operations Mission Directorate 
NASA Science Mission Directorate
NASA Museum & Informal Education Alliance 
---
Acknowledgment
This material is based upon work supported by NASA under award number 80NSSC21M0082. Any opinions, findings, and conclusions or recommendations expressed in this material are those of the author(s) and do not necessarily reflect the view of the National Aeronautics and Space Administration (NASA).