August 4, 2021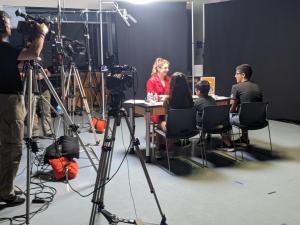 Planning activities for National Chemistry Week 2021? In this blog post, we discuss the Explore Science: Let's Do Chemistry kit  and professional development workshops that help scientists and educators develop activities and strengthen facilitation techniques to support positive attitudes around chemistry. Would you like to make some changes to your activities to fit this year's NCW theme "Fast or Slow...Chemistry Makes it Go?" Visit the Explore Science: Let's Do Chemistry kit and Train-the-Trainer Workshop page to learn more about our framework and how to get started. 
 
There is no better opportunity for reflection than when you're forced to take a pause. During a time when in-person hands-on chemistry activities were impossible due to the pandemic, a group of chemists and informal science educators across the nation came together once a week to reflect on their hands-on activity practices.
 
In the fall of 2020 to winter 2021, the Museum of Science, Boston, and the American Chemical Society hosted online train-the-trainer workshops for chemistry outreach professionals to dive deep into the Let's Do Chemistry framework and learn how to use it to increase the impact of their hands-on chemistry activities. 
 
The Explore Science: Let's Do Chemistry kit  and framework were developed after testing a series of hands-on chemistry activities focused on the idea of increasing visitors' positive attitudes toward chemistry by increasing interest, relevance, and self-efficacy. 
 

Watch the Let's Do Chemistry STEM for All Video from NISE Network on Vimeo.
---
 
After 250 Explore Science: Let's Do Chemistry kits  were delivered to informal science institutions nationwide in September 2018, the project team wondered: what if we gave educators agency to develop their own activities and trainings around the framework?
Some participants realized that the status quo may no longer be good enough when it came to their chemistry activities. 
 
"I learned formally something I have suspected for some time - that the demonstrations and hands-on activities that I have engaged in for the last 20 years are not really doing what we hoped they were doing for our audience. The data presented during the workshop comprise some of the most complete studies ever performed on outcomes from chemical demonstrations."
– Matt Mio, Chem Club (ACS Student Members Chapter) Co-advisor, Professor, and Chair Department of Chemistry and Biochemistry, University of Detroit Mercy
 

Five groups of workshop participants for a total of 74 educators participated in and received a small stipend to attend. Originally, the workshop team hoped to bring everyone together for various in-person workshops in 2020, but when COVID hit, the team had to quickly and comprehensively shift their plans to an online experience.
 
To actively engage workshop participants and allow for them to have flexibility in their workdays during a challenging time, the team chose to host 90-minute Zoom gatherings once a week to bring the participants together through guided discussions. Rather than spending those precious minutes together sharing long PowerPoint discussions, the team created a syllabus of videos, reading materials, and worksheets for the participants to complete on their own time before and after every Zoom call.
"All virtual meetings were very encouraging, and I feel that I had the opportunity to advance my professional development toward STEM students outreach activities with new skills that I learned along the way. I enjoyed doing networking with other academics and learning also from them new ways to do things and tools such as the G moodle board to collaborate with my assigned team."
– Jessika Pazol, Chemistry graduate student at, University of Puerto Rico - Rio Piedras Campus

 
Each participant was assigned a simple hands-on chemistry activity to adapt throughout the workshop based on the principles of the Let's Do Chemistry framework. Every week, the participants were tasked with adapting their activity to increase interest, relevance, or self-efficacy using the framework's activity design and facilitation strategies related to chemistry content or activity format and structure.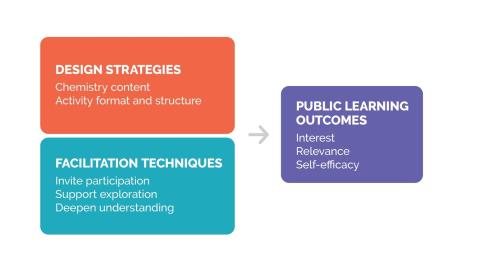 Participants felt the framework was helpful for their outreach work. For example, Jessika said by using content strategies she can add value to the social messages she would like to share with her audience of students and parents and can focus her future activities on connecting science concepts with current societal issues.
 
"Incorporating the content strategies would provide a very great opportunity to introduce the global warming topic to our next STEM generation and thus create awareness while learning." 
– Jessika Pazol, Chemistry graduate student at, University of Puerto Rico - Rio Piedras Campus

 
Matt said one of his biggest takeaways from the workshop was the simple messaging that can be easily remembered and passed along. "Interest, relevance, and self-efficacy. My mind works best, as an educator, with short phrases that I can repeat as a mantra to myself and my students. These three concepts make up the foundation of why we do what we do for an audience member."
 
By taking time to reflect and talk with each other, some participants even found themselves learning more about their practices as an educator and made plans to change and adapt what they've done for many years to incorporate the framework strategies.
 

Watch Participant Stories video from the Train-the-Trainer Workshop.
"Most of the time we focus entirely on the "hands-on" technical aspect of the activity and do not consider additional content and facilitation strategies that can enrich the participants' experience and create a positive chem-attitude in students."

– Jessika Pazol, Chemistry graduate student at, University of Puerto Rico - Rio Piedras Campus
Matt already plans to modify or retire some of the Chem Club's long-standing demos because he now knows more about what works and what doesn't.
 
"Be open to the possibility, [especially] in our fast-paced world, that the flash and bang of your favorite demo might not have the impact you think it's having. Once you are there, look inward and ask, 'What can I do to increase the impact of my beloved chemistry to the public?' So much of modern society needs a science-literate public - help do your part!"

 
True to the nature of a train-the-trainer workshop, however, the learning won't stop with the participants.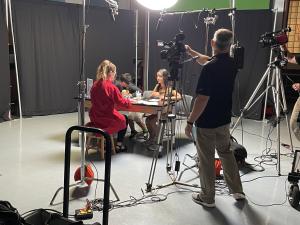 Jessika explained how she plans to change the way she teaches students to facilitate activities to increase their own self-efficacy.
"…I normally did the explanation and hands-on activity while students observe, but now I plan to change that dynamic and ask for volunteers to come and explore by themselves. To build confidence between the facilitators, I plan to practice, practice, and more practice with them… sometimes the difficulty comes because people do not know what to say, but if we prepare with anticipation of that detail, I think they can gain confidence."

 
Luckily, the materials are not just for the participants – you can use them too!
 
If you would like to explore, download, share and use any of the workshop materials related to the Let's Do Chemistry framework, they are available for you to download here.
 
---
Learn more about  NISE Network National Chemistry Week resources: