June 28, 2022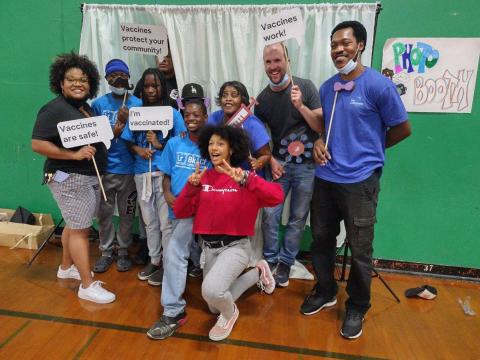 Staff from the Lawrence Hall of Science worked with public health scientists and community partners to design activities to boost vaccine confidence in families with young children. Some activities were adapted from NISE Network resources, and detailed activity guides and materials are available online from Lawrence hall of Science for educators to adapt and use freely.
"Last year this COVID-19 scared me. It's not so scary when you're doing science about it with everyone." This quote from a youth participant captured one of the ambitions of new activities developed by The Lawrence Hall of Science as part of the Communities for Immunity initiative.
Public health scientists at UC Berkeley's Health Research for Action center consulted during the development of the activities to help ensure they would help families with young children become more comfortable with the idea of COVID-19 vaccination. Detailed facilitator guides, signs, and pamphlets for these activities are available here in both English and Spanish.
Activities were co-developed with youth who are served by Bay Area Community Resources (BACR) after-school programs in Antioch, California. This partnership culminated in a series of family events where youth were able to serve as facilitators for the tabletop activities.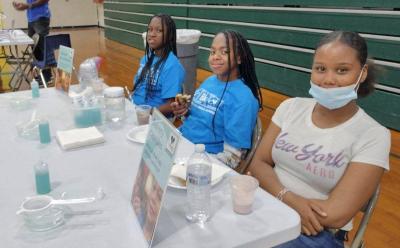 "The biggest take away for me was watching the youth light up everytime they had a participant at their station they could teach. The youth were so proud and after speaking with lots of families, the parents stated how proud they felt watching and listening to their child(ren) describe their learning," said BACR program manager Yvonne Nolasco.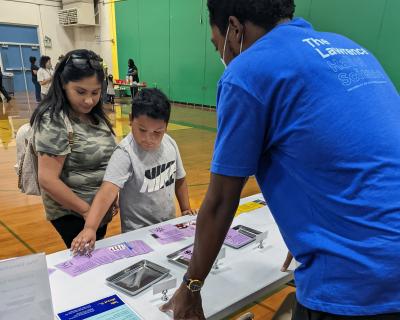 The activity that takes the issue of vaccination most head-on is called The Vaccine & You. In this card-based personal choice activity, learners review and sort COVID-19 and vaccine science information. They decide whether each piece of information makes them more or less confident that the COVID-19 vaccine will help, or whether it raises more questions.
 Learners can empathize with different fictional characters and decide how those characters might feel. The materials include supports to help educators productively engage learners with a wide range of perspectives on vaccination.
This activity was inspired by NISE Net's Bio Bistro activity.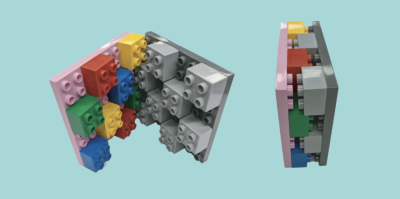 An activity called Antibody Builder offers groups an opportunity to to learn more about the science behind the immune system. Learners use Duplo bricks to build antibodies with shapes that match model viruses.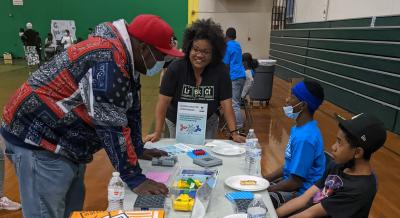 Facilitators can discuss with learners how the viruses that cause diseases have different shapes on their surfaces and that our body responds to infection by making antibodies with matching shapes that attach to and deactivate the virus. Learners are exposed to the foundations of the immune system while gaining practice solving increasingly complex spatial reasoning challenges.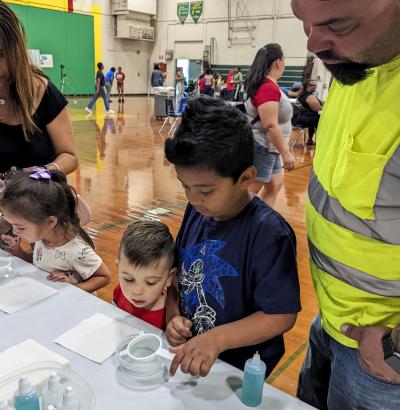 Finally, the team developed an activity called Delivery Capsules that engages learners in the cutting edge science of mRNA-based COVID-19 vaccines. This activity was lightly adapted from the NISE Net Gummy Capsules activity. Learners make self-assembled polymer spheres as a model for the lipid nanoparticles found in COVID-19 mRNA vaccines.
Learners not only discover that self-assembly is a process by which molecules and cells form themselves into functional structures, but they also gain first-hand experience with the kind of self-assembly that is used to make nanocapsules that can deliver medication like vaccines. This activity is a fun way to talk about the connections between science and cooking, since the capsules produced in this activity are also used in molecular gastronomy.
Communities for Immunity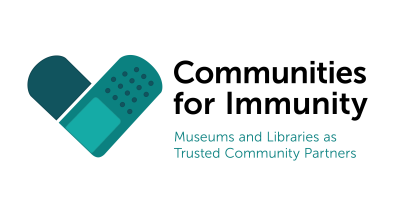 This project was funded as part of the Communities for Immunity initiative led by the Association of Science and Technology Centers and the American Alliance of Museums. With support from the U.S. Centers for Disease Control and the Institute of Museum and Library Services, Communities for Immunity supports museums and libraries working to increase vaccine confidence among vaccine-hesitant communities. You can find more resources from the Communities for Immunity initiatives here.
More Resources