Project overview
NISE Network's Sustainable Futures initiative supports museums and similar cultural organizations in their efforts to integrate sustainability into all aspects of their institution, including decision-making, operations, programs, and community partnerships. The program uses a broad definition of sustainability, which aligns with the UN global goals. 
---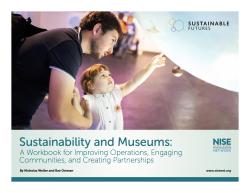 Sustainability and museums
Sustainability initiatives can help your organization to build partnerships, create thematic connections among existing programs, improve operations, create community and promote learning, and contribute to a global conversation.
Learn more:
---
Sustainability fellowships
The fellowship program introduces informal educators to sustainability science and practices and provides resources and support for participants to work on a sustainability-related project at their institution.
Learn more: 
---
Sustainable Futures public programs
Through this collection of public programs, people and communities learn to work together to create a positive future for everyone.
Learn more: 
---
SustainABLE kit
SustainABLE hands-on activities provide opportunities to explore solutions to the world's biggest challenges. 
​The digital kit is available as a free download:
---
Online workshops 
This three-part series of online workshops provide an overview of sustainability, explain its relevance to museums, and highlight examples of sustainability in different museums. Participants also learn about NISE Network public programming resources. The workshops were presented in 2020, and are available as recordings.
Recorded workshops:
Sustainability in museums around the world: Working together to create a sustainable future (recorded February 18, 2020) 
Sustainability and museum operations: Practices, partnerships, and resources to help your organization become more sustainable (recorded February 25, 2020)
Sustainability and museum visitors: Exhibits, programs, and other ways to engage the public (recorded March 3, 2020)
---
Acknowledgements
This project is made possible in part by the Institute of Museum and Library Services, Grant Number MG-245910-OMS-20.

This project is a continuation of the program established through support from the Rob and Melani Walton Foundation as part of Arizona State University's Rob and Melani Walton Sustainability in Science and Technology Museums initiative.