---
NETWORK NEWS
---
2021/2022 Sustainability Fellowship Opportunity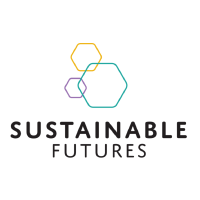 The application deadline for the NISE Network 2021/2022 Sustainability Fellowship has been extended, applications are now due, March 15. With support from the Institute of Museum and Library Services staff from 90 museums will participate in a series of online workshops to develop a sustainability-related project at their organization. Participating museums will receive a stipend of $1,500 to support their participation and project work. For more information about the NISE Network Sustainability Fellowship and to apply, please visit our website. 
---
ONLINE WORKSHOPS
---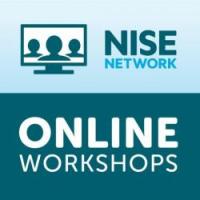 The NISE Network hosts free online workshops as professional development opportunities for our partners to share with and learn from each other.

Online workshops take place on Tuesdays at 2-3pm Eastern / 11am-12pm Pacific. View upcoming online workshops at nisenet.org/events. 

View our past online workshop. The COVID-19 Vaccine: What role can museums play in the rollout of the new vaccine? (Recorded 2-02-2021)
---
UPCOMING EVENTS
---
Earth Day Takes Place the Week of April 22
Since 1970, Earth Day has increased awareness of the planet we live on, and encouraged people to learn more about pollution, climate change, endangered species, and many other environmental issues. Earth Week and Chemists Celebrate Earth Week takes place on the week around Earth Day. The NISE Network has compiled a selection of resources to help you plan for your Earth Day celebration wherever your learners are: https://www.nisenet.org/earthday

Chemists Celebrate Earth Week: April 19-2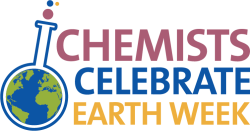 This year's Chemist Celebrate Earth Week (CCEW), themed "Reducing Our Footprint with Chemistry," is a public awareness program to help promote the positive role chemistry plays in the world and our lives. Explore the American Chemistry Society's CCEW online resources to help you plan or find virtual events at https://www.acs.org/ccew. For NISE Net activities connected to chemistry, explore the Explore Science: Let's Do Chemistry digital kit, National Chemistry Week activities, and Earth Day activities.   
April is Citizen Science Month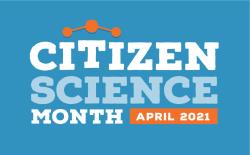 April is Citizen Science Month! In addition to bridging gaps between the general public and the scientific community, Citizen Science has the additional benefit of increasing the scope of data available to scientists for their research. For a list of Citizen Science programs and ideas of how to celebrate Citizen Science Month visit: https://sciestarter.org/citizensciencemonth.
---
PARTNER HIGHLIGHTS
---
tag! Children's Museum in St. Augustine, FL Engages Children Through Online Videos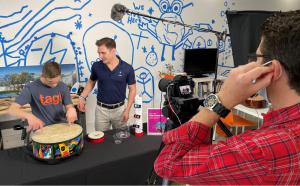 Over the course of the last year rife with pandemic challenges, tag! Children's Museum found an opportunity to create all new digital programming using NISE Network Earth and space and chemistry activities. Building upon their successful Talk About Genius! video series, which attracted new partnerships and collaborations, the tag! team has designed science-based videos to serve members of the special needs community through the medium of music. These videos are being used in classrooms with diverse learners with future plans to be used in pediatric hospitals and potentially showcased on local lifestyle and television programs. Read more to learn about the video series Talk About Genius! featuring playful science songs for learners of all ages and abilities.

Virtual Outreach Best Practices: NC Museum of Natural Science Astronomy Days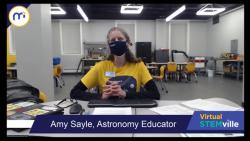 olding their 30th annual Astronomy Days event this past January, the North Carolina Museum of Natural Sciences (NCMNS) in Raleigh, transitioned their normally two-day in-person event that attracts upwards of 16,000 visitors to seven days of digital programming with 50 amazing astronomy programs! Converting an in-person, interactive event to 100% virtual was a challenge, but they were able to apply valuable lessons learned from previous online events, including arranging for closed captioning and ASL interpretation to support broader inclusivity. Read more about NCMNS's virtual Astronomy Days event for lessons learned and best practices for virtual programming. 
---
COMMUNITY RESOURCES AND ANNOUNCEMENTS
---
Museums Celebrate NASA Perseverance Landing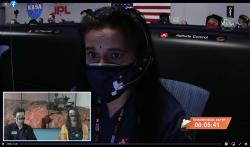 Museums all over the country celebrated the NASA Perseverance mission landing with a variety of public engagement programs both in-person and online. Programs covered a variety of content focused on the science behind the mission, the engineering to land the mission, past and future exploration on Mars. Read more to see just a few examples of public engagement programming from NISE Network partners. 

We Love Unboxing Photos of Your Explore Science: Earth and Space 2020 Toolkits!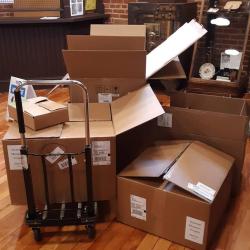 Have you unboxed your 2020 Explore Science: Earth and Space toolkit B yet? Don't forget to tag NISE Net on social media! For a quick reference of our tags and handles on social media, visit: nisenet.org/social
---
STEM THROUGHOUT THE YEAR
---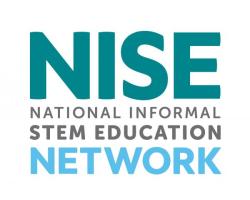 Discover activity ideas for incorporating current science, engineering, and technology content into events, special programming, holidays, and seasonal activities by visiting http://www.nisenet.org/seasons/.

March
Women's History Month

NASA's Night Sky Network - 

Monthly astronomical events
SciStarter Citizen Science Calendar

 of events

3/7-3/13: National Groundwater Awareness week

3/8: International Women's Day 

​3/14: Pi Day

3/14: National Learn about Butterflies Day

3/15-3/21: Brain Awareness Week

3/22: World Water Day

3/22-3/26: Solar Week

3/27: Earth Hour

3/27-4/4: NanoDays
​April
Citizen Science Month

National Poetry Month

4/3-4/11: National Robotics Week

4/7: World Health Day

4/10: Yuri's Night

4/19-4/23: National Environmental Education Week

4/22: Earth Day

4/25: DNA Day
---
SCIENCE IN THE NEWS
---
Earth and Space News
Mars landing: NASA's Perseverance Rover in 'Great Shape'
February 18th NASA's Perseverance Rover successfully landed on Mars. From launch to landing the long trip to the red planet took approximately seven months.

Mars: NASA's Perseverance Rover Sends Stunning Images
Perseverance landed on Mars on Feb.18 and since then has sent back breathtaking photos!

European Space Agency Welcomes Parastronauts: In Space, We're All Disabled
The ESA is recruiting individuals with disabilities to be parastronauts, with the hopes of heading to space.

NASA Names D.C. Headquarters for 'Hidden Figures' Engineer
On February 26, NASA named its Washington headquarters after Mary W. Jackson, NASA's first African American female engineer.
Chemistry News
The Stars Within Us
Watch and read this great short article from the National Science Foundation on how the elements inside you, and everything, were forged inside a star!

Obesity and Diabetes Drug Could be On the Way
Hormones important in combating obesity and type 2 diabetes are being researched by scientists in Germany, Switzerland, and the US. Mouse experiments have raised hopes for a drug development.  

Synthetic Biology News
CDC Panel Endorses Johnson & Johnson One-Dose COVID-19 Vaccine
Unlike the Moderna and Pfizer vaccines, the Johnson & Johnson vaccines require just a single dose and doesn't need to be stored in extreme temperatures.

World Health Organization Expert Group Recommends Use of the AstraZeneca Vaccine
Independent experts advising the WHO about immunization recommended the use of AstraZeneca's vaccine, which is the bulk of the stockpile already acquired by the United Nations.   

Sustainability News
Lab-grown Wood Could be Future of Furniture
American scientists are working on "growing" wood in a lab without the need of sunlight or soil by using 3D-printed gel technology.

Nanotechnology News
Study: Smartwatches Predict COVID-19
Researchers have found some smartwatches, like the Apple Watch, can pick up on subtle changes in the wearer's heartbeat days before they were officially diagnosed with COVID-19.
---
NATIONAL MEETINGS AND CONFERENCES
---
Association of Children's Museums (ACM) 2021 InterActivity
May 13-28, 2021
Stay tuned for NISE Network events at the conference: https://www.nisenet.org/ACM2021

Association of Science-Technology Centers (ASTC) 2021 Annual Conference
October 5-7, 2021
Stay tuned for NISE Network events at the conference: https://www.nisenet.org/astc2021

National Science Teaching Association (NSTA) Conferences
Learn more about upcoming conferences