Date
-

Pittsburgh, Pennsylvania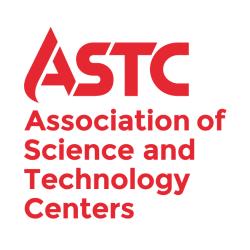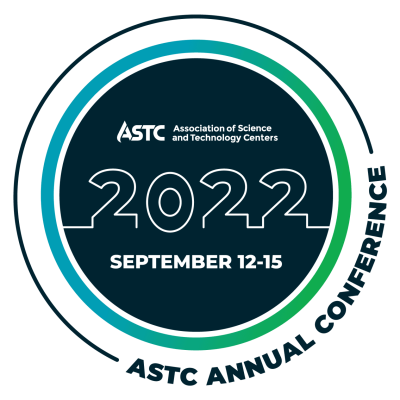 ASTC 2022 Conference
September 12-15, 2022
Pittsburgh, Pennsylvania 
Co-hosted by the Carnegie Science Center and the Children's Museum of Pittsburgh and its MuseumLab.
Conference sessions and the Exhibit Hall will be held at the
David L. Lawrence Convention Center
Learn More:
https://www.astc.org/astc-2022/
---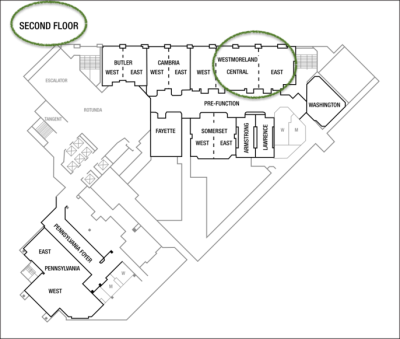 NISE Network Partner Breakfast
The NISE Network will be hosting a free breakfast for staff from partner institutions (no need to RSVP).
Thursday, September 15, 2022
7:30am-9am 

Eastern


The Westin Pittsburgh 2nd floor 
Room: Westmoreland East & Central
1000 Penn Avenue, between 10th and 11th Streets (across the street from the Convention Center)
No need to RSVP
Printable breakfast flyer (PDF) available for download
A quick summary of NISE Network
projects and opportunities (PDF) (revised 9-9-22) is available for download.
Breakfast Presentation Slides (COMING SOON)
---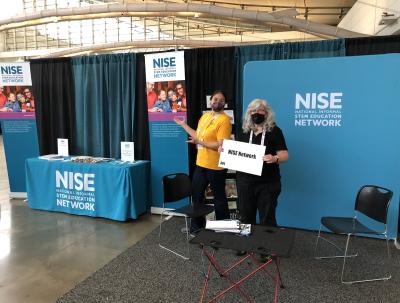 Booth and Exhibit Hall
Monday, September 12, 2022, 11:00 am–6:00 pm
Tuesday, September 13, 2022, 10:30 am–6:00 pm
Booth #301
The NISE Network will have a booth in the exhibit hall featuring public engagement activities and resources including information about upcoming projects opportunities. We are looking forward to seeing people in person!
---
Concurrent Sessions, Presentations, & Posters
Exhibit Hall Hyperwall talk - NASA Resources from the NISE Network 
Hyperwall Talk at the NASA booth, Exhibit Hall
Monday, September 12, 12:45 PM - 1:00 PM Eastern

Presenter: Darrell Porcello, Children's Creativity Museum
Getting Started in Community Science
Date: Monday, September 12, 4:00 p.m. – 5:30 p.m. Eastern


Through

community science

, community members collaborate to conduct and leverage scientific research and technological innovation to advance community priorities. In our session, we will explore how to find common ground and share leadership with community-serving partners, as well as how to assess institutional readiness to embark on new collaborative efforts.

Presenters

:

Claudia Martinez Gray, Dialogue & Deliberation Fellow and Director of Education, International Museum of Art and Science
David Valentine, Dialogue & Deliberation Fellow and Community Engagement Specialist, Science Museum of Minnesota
Rachel Hogan Carr, Executive Director, Nurture Nature Center
Max Cawley, Director, Climate Research and Engagement, Museum of Life and Science
Reflections on Equity Practices, Policies and Communications
Monday,

September 12,

 4:00 PM - 5:30 PM 

Eastern


Room TBD
What strategies can organizations use to examine and evolve their work to become more equitable? CAISE and NISE Network will present lessons learned from reflective processes using frameworks and external experts to investigate and improve their activities, policies, and communications related to equity and inclusion, followed by small group discussion.

Presenters: 
Alexandra Jackson, Director of Programs & Partnerships, Sciencenter
Cecilia Garibay, Principal, Garibay Group
Jamie Bell, CAISE, Project Director, Center for Advancement of Informal Science Education (CAISE)
Rabiah Mayas, Vice President, Education, Museum of Science and Industry
Rae Ostman, Associate Research Professor, School for the Future of Innovation in Society, Arizona State University
Developing Whole Institution Sustainability Projects for Science Centers and Museums
Tuesday,

September 13,

11:00 AM - 12:30 PM 

Eastern


This workshop will 1) highlight stories of successful sustainability efforts at museums, 2) describe the basics of planning a museum sustainability effort, including an introduction to the United Nations Sustainable Development Goals and successful strategies from research, and 3) allow participants to create sustainability project plans for their own institutions.

Presenters: 
Karen Dewhirst, Science Manager, Creative Discovery Museum
Marci Howdyshell, Senior Director of Scientific Content and Research, COSI
Nicholas Weller, Postdoctoral Research Associate, Arizona State University - Center for Innovation in Informal STEM Learning
Shannon Earnest, Gallery Manager, Saint Louis Science Center
Simon Mused, Senior Exhibitions Manager, Scott Family Amazeum
POSTER: How to Design Successful Hands-On STEAM Activities for At-Home Learners
Tuesday,

September 13, 

2:00 PM - 3:15 PM 

Eastern


Posters, Exhibit Halls B and C
Recently, museums have been driven to refine materials for at-home learners. Howtosmile.org gathered a consortium of NISE Network museums to document and share this knowledge through a new At-Home Activities Framework and curated collection. We will discuss the framework, provide exemplars, and ask attendees to reflect on their at-home programming.

Presenters: 
Alberto Lopez, Youth Outreach Coordinator, Florida Museum of Natural History
Brad Peroney, Carnegie Science Center
Darrell Porcello, Director of National STEM Networks, Children's Creativity Museum and NISE Network
Marci Howdyshell, Senior Director of Scientific Content and Research, COSI
Victoria Mitchell, Director of Exhibits and Programs, Exploration Place, The Sedgwick County Science and Discovery Center

 

POSTER: The Long Game: Using Games to Transform Science Center Experiences
Tuesday, September 13, 2:00 PM - 3:15 PM Eastern
Poster Board #40. Exhibit Halls B and C
The Moon Adventure Game is an open-source collaborative game created to incorporate games into program offerings. This poster provides an opportunity to look at design thinking for museum experiences in the form of escape rooms and other role playing games that are more portable and versatile than traditional escape rooms.

Presenters:

Catherine McCarthy, Project Manager Senior - NISE Network, Arizona State University - Center for Innovation in Informal STEM Learning

Jeannie Colton, Project Coordinator, NISE Network

Max Cawley, Associate Program Manager - Learning Philosophy & Evaluation, Museum of Life and Science
Building Lasting Community Partnerships
Tuesday, September 13, 3:30 PM - 5:00 PM 

Eastern


Developing long-lasting and meaningful relationships with other organizations can be a daunting task. Learn from three successful partnerships with representatives from both the science center and their partner organization. Whether from urban, rural, or tribal communities, you'll take away helpful and replicable lessons for you to apply at your institution.

Presenters: 
Imani Vincent, Schoolhouse Teacher
Jessie Herbert-Meny, Director, spectrUM Discovery Area
Max Cawley, Associate Program Manager - Learning Philosophy & Evaluation, Museum of Life and Science
Peter Leipzig, Education Program Coordinator, Sciencenter
Yanet Lopez, Community Engagement Manager, Fleet Science Center
Christina Leavell, Arizona State University
Working Across Dimensions: DEAI Tools and Practices
Wednesday, September 14, 10:30 AM - 12:00 PM 

Eastern


Actionable Insights from the Cultural Competency Learning Institute National Landscape Study grouped diversity, equity, access, and inclusion (DEAI) practices in museums into four dimensions: public facing, internal, foundational, and cross-functional. Presenters will share examples, tools, and resources aligned with the actionable insights. Attendees will take part in activities they can apply in their own organizations.

Presenters: 
Alexandra Jackson, Director of Programs & Partnerships, Sciencenter
Cecilia Nguyen, Senior Exhibit Developer, Oregon Museum of Science and Industry
Eric Buenrostro Azua, Vice President of People and Culture, Oregon Museum of Science and Industry
Kevin Perez, Camp Manager, Terry Lee Wells Nevada Discovery Museum
Michelle Mileham, Project Manager, Utah Division of Arts & Museums
Go Where the People Are and Do What the People Do: Experimenting With Situated Engagement
Wednesday, September 14, 10:30 AM - 12:00 PM Eastern
From neighborhood gatherings to parades, open-air markets to fantasy conventions, communities always get together on their own terms. What would it look like if you put down your usual bag of science tricks and joined in? Learn about our experiences with prioritizing cultural context with the practice of situated engagement.

Presenters: 

Becky Carroll, Senior Researcher

Ben Wiehe, Manager, MIT Museum

Benjamin Dickow, President & Executive Director, Columbia Memorial Space Center

Emily Rice

Paul Martin, Co-Director, Arizona State University - Center for Innovation in Informal STEM Learning

Working Together Toward Better Co-creation
Wednesday, 3:30 PM - 4:15 PM
What happens when we invite the public to share authority in the design and execution of science education initiatives? What should our goals be for co-created projects? How do we measure success? We'll share takeaways from two projects and invite problem-solving on how organizations can approach their own co-creation work.

Presenters:
Claire Quimby, Senior Research Associate, Rockman et al Cooperative Inc
Elizabeth Kunz Kollman, Director, Research and Evaluation, Museum of Science, Boston
Leigh Ann Mesiti Caulfield, Senior Experience Researcher, Mad*Pow
---
NISE Network Partner Breakfast
Thursday, September 15, 2022
7:30am-9am 

Eastern


please see details and map above
---
NISE Network Networking Happy Hour
Many NISE Network members will gather for networking during the "Preconference Meet Up" time slot  
Sunday, September 11, 2022
7:00 PM - 9:00 PM 

Eastern


At the BACKYARD AT 8TH AND PENN
Casual meet up at the Backyard at 8th and Penn. Grab yourself a drink and enjoy the outdoor space with colleagues as you familiarize yourself with Pittsburgh.
Look for the NISE Network table signs!
no need to RSVP