ASTC Annual Conference 2019
Date
September 21, 2019
September 24, 2019
Location
Toronto, Ontario, Canada
The Association of Science-Technology Centers (ASTC) 2019 Annual Conference is being hosted by the Ontario Science Centre in Toronto, Canada from September 21 through September 24, 2019. Get your passports ready!
The ASTC 2019 Conference theme is Moonshots: Rendezvous with the Future
---
Booth and Exhibit Hall
The NISE Network will have a booth in the exhibit hall featuring public engagement activities and resources including information about upcoming projects opportunities.
Booth #327
Saturday September 21, 2019: 10:30 a.m.–6:00 p.m.
Sunday September 22, 2019:  9:30 a.m.–6:00 p.m.
Download current projects and opportunities flyer (revised 9-5-2019) (PDF)
---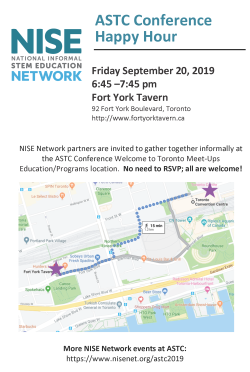 NISE Network Networking Happy Hour
Many NISE Network members will gather for networking during the  "Welcome to Toronto Meetups" time slot  
---
NISE Network Partner Breakfast
The NISE Network will be hosting a breakfast for staff from partner institutions (no need to RSVP).
---
PreConference Intensive Workshop
Let's Do Chemistry: Designing and facilitating chemistry activities to increase interest, relevance, and self-efficacy 
Learn about a framework for designing and facilitating hands-on informal chemistry activities that increase learners' interest, relevance and self-efficacy. We'll explore video interactions with visitors that embody the framework, practice and discuss hands-on activities that can help to promote these positive attitudes, and apply the framework to other activities. Limited to 50 people. Preregistration required. Fee: $150 per person (Attendee fees include meals and transportation, if necessary). See more of: Preconference Intensive Workshops

Friday, September 20, 2019: 9:00 AM - 5:30 PM
Meeting Room 715 (Metro Toronto Convention Centre)
Workshop Session Leader: 

David Sittenfeld, Manager, Forums & National Collaborations, Museum of Science

Presenters:

Ali Jackson, Director of National Collaborations, Sciencenter,
Rae Ostman, Assistant Research Professor, Center for Innovation in Informal STEM Learning, Arizona State University,
Elizabeth Kollmann, Manager, Research and Evaluation, Museum of Science,
David Sittenfeld, Manager, Forums & National Collaborations, Museum of Science,
Patricia Galvan, Program Manager, Office of Science Outreach, American Chemical Society
 

Playing with the future: Creating exhibits and programs that immerse visitors in futures thinking
Meet professional "futurists" and learn how futures thinking, skills, and ideas have been integrated into science centers and children's museums. Then work in small groups to brainstorm and develop ideas for new STEM learning experiences that immerse public audiences in envisioning the kind of future we want to live in.Limited to 30 people. Preregistration required. Fee: $75 per person (Attendee fees include snack and transportation, if necessary). See more of: Preconference Intensive Workshops

Friday, September 20, 2019: 1:30 PM - 5:30 PM
Meeting Room 718a (Metro Toronto Convention Centre)

Workshop Session Leader:

Rae Ostman, Assistant Research Professor, Center for Innovation in Informal STEM Learning, Arizona State University

Presenters:

Meredith Doby, Vice President of Exhibits, The DoSeum,
Paul Martin, Co-director, Center for Innovation in Informal STEM Learning, Arizona State University,
Peter Bishop, Founder and Executive Director, Teach the Future,
Joe Tankersley, Principal Consultant, Unique Visions and Stuart Candy, Professor, Carnegie Mellon University
---
Concurrent Sessions, Posters, and Talks
Exhibit Hall Hyperwall talk - NASA Resources from the NISE Network

Saturday, September 21, 2019: 1:00 PM-1:15 PM
Darrell Porcello, Children's Creativity Museum 
Exhibit Hall Hyperwall Talk at the NASA booth
Same Tree, Invasive Species, or Overlapping Niches in an Ecosystem?
Museums and science centers are increasingly addressing socioscientific issues in their programming and exhibits. Science communication practitioners seek to reach diverse, underrepresented audiences with broader impacts and education activities. In this session, researchers and practitioners will share and compare theory, strategy, and findings, surfacing opportunities and challenges for mutual learning.

Saturday, September 21, 2019: 2:15 PM-3:30 PM
Meeting Room 718a (Metro Toronto Convention Centre)
Session Leader:

Melissa Ballard, Communications & Community Manager, CAISE

Session Moderator:

Jamie Bell, Project Director, Center for Advancement of Informal Science Education (CAISE)

Presenters:

Chantal Barriault, Research Advisor, Science North,
John Besley, Associate Professor and Ellis N. Brandt Chair in Public Relations, Michigan State University,
Rae Ostman, Assistant Research Professor, Center for Innovation in Informal STEM Learning, Arizona State University
Sara Yeo, Assistant Professor, Communication, University of Utah
Tinkering with Maker and Chemistry-based Activity Facilitation Frameworks
The discussion will showcase how a new facilitation framework was adapted from and developed through existing maker/tinkering facilitation strategies to address issues surrounding visitor attitudes about chemistry. Audiences will learn more about different types of facilitation frameworks that can be combined, customized and implemented to impact learning goals.

Sunday, September 22, 2019: 10:00 AM-11:30 AM

Hall E (Metro Toronto Convention Centre)

Poster Leader:
Hever Velazquez, Evaluation & Research Associate, Science Museum of Minnesota

Presenters:

Gretchen Haupt, Evaluation and Research Associate, Science Museum of Minnesota,

Rae Ostman, Associate Research Professor, School for the Future of Innovation in Society, Arizona State University

Mike Petrich, Making - Learning Studio, Exploratorium
STEM Celebrations! Moon landings, Earth Day 50th anniversary, International Year of Periodic Table, Solar Eclipses
These simultaneous celebrations are an exciting way for public audiences to engage in STEM content both inside and outside museum walls. Presenters will focus on the ways we can capture audience attention and transform interest in large-scale anniversaries and events into meaningful public engagement in STEM at our local museums.

Sunday, September 22, 2019: 10:00 AM - 11:30 AM  (POSTER #24)
Hall E (Metro Toronto Convention Centre)
Poster Leader: 

Catherine McCarthy, Project Leader–NISE Network, Science Museum of Minnesota

Presenters:

Meghan Curry, Executive Director, Insights El Paso
Michele Kloda, Director of Learning Environments, Museum of Life and Science
Amelia Chapman, Education Program Specialist, Jet Propulsion Laboratory
Christina Carlson, Manager, Science Beyond the Boundaries, Saint Louis Science Center
Exhibit Hall Hyperwall talk - NASA Resources from the NISE Network

Sunday, September 22, 2019: 10:30 AM - 10:45 AM
Darrell Porcello, Children's Creativity Museum 
Exhibit Hall Hyperwall Talk at the NASA booth
Bringing chemists and chemistry experiments into your museum and out into your community
Hands-on chemistry is a great way to get visitors involved with the process of science. Chemistry can be inspiring, fun, and messy! Learn about how to get more chemistry into your museum: getting stakeholder buy-in, training staff and volunteers, planning for safety, materials handling and storage, and finding collaborators.

Sunday, September 22, 2019: 1:45 PM - 3:00 PM
Meeting Room 701b (Metro Toronto Convention Centre)
Session Leader: Catherine McCarthy, Project Leader–NISE Network, Science Museum of Minnesota
Presenters:

Darrell Porcello, Director, STEM Networks and Partnerships, Children's Creativity Museum
Soma Chatterji, STEM Education Coordinator, Carnegie Science Center
Emily Belle, Education Program Coordinator, Sciencenter
Patricia Galvan, American Chemical Society
Enabling a climate-resilient future through community partnerships
Frequent natural disasters are the new normal and cities are struggling to be resilient. Come learn about NOAA-funded projects that enable climate resilience through community partnerships including teens becoming advocates for resilient communities, citizen science and public dialogue forums, integration of art, and students engaging in their coastal community's resilience.

Sunday, September 22, 2019: 1:45 PM-3:00 PM
Meeting Room 714b (Metro Toronto Convention Centre)
Session Leader:

Carrie McDougall, Senior Program Manager, National Oceanic and Atmospheric Administration, (NOAA)

Presenters:

David Sittenfeld, Manager, Forums & National Collaborations, Museum of Science,
Avalon Bunge, STEM Education Specialist, The Maritime Aquarium at Norwalk,
Bryan Wunar, Director of Community Initiatives, Museum of Science and Industry,
Jen Kretser, Director of Programs and the Youth Climate Summit Initiative, The Wild Center, The Wild Center/Natural History Museum of the Adirondacks
Kathryn Semmens, Science Director, The Nurture Nature Center
Moonshots in the museum: Creative ways to engage museum audiences in big challenges
Explore ways to engage museum visitors in learning about today's "moonshots," including space exploration, sustainable living on Earth, and increased understanding of the human brain. Presenters will explore a variety of programmatic approaches to big challenges, and then we'll divide into small groups and participate in rapid design charrettes.

Sunday, September 22, 2019: 3:15 PM-4:30 PM
Meeting Room 715 (Metro Toronto Convention Centre)
Session Leader:

Rae Ostman, Assistant Research Professor, Center for Innovation in Informal STEM Learning, Arizona State University

Presenters:

Darrell Porcello, Director, STEM Networks and Partnerships, Children's Creativity Museum,
Jayatri Das, Chief Bioscientist, The Franklin Institute,
Sari Custer, Chief Curiosity Officer, Arizona Science Center,
Jeannie Colton, Program Coodinator, Arizona State University
Paul Martin, Co-director, Center for Innovation in Informal STEM Learning, Arizona State University
 

Science Outreach at the Cutting Edge: Design-a-palooza
How can science centers design experiences around cutting-edge science phenomena that are abstract, complex, and unfamiliar to the public? After a short panel discussion, session participants will play the Design Game, in which we will propose design strategies for randomly assigned content, audiences, and modalities generated through audience participation.

Monday, September 23, 2019: 9:15 AM-10:30 AM
Meeting Room 717 (Metro Toronto Convention Centre)
Session Leader:

Lee Bishop, Biotechnology Lead, Lawrence Hall of Science

Presenters:

Ari Krakowski, Learning Labs and Digital Apps Director, Lawrence Hall of Science,

Stacey Forsyth, Director, CU Science Discovery, University of Colorado, Boulder,

David Sittenfeld, Manager, Forums & National Collaborations, Museum of Science

Brian Mernoff, Education Programs Coordinator, MIT Museum
---
General Plenary Session and ASTC 2020 Preview
Roy L. Shafer Leading Edge Awards Presentation

 Monday, September 23, 2019: 10:45 AM - 12:15 PM
Metro Toronto Convention Centre - Halls F&G