Welcome to the April Nano Bite, the monthly e-newsletter for the Nanoscale Informal Science Education Network (NISE Net).

INSIDE THIS ISSUE
NISE NET NEWS AND ANNOUNCEMENTS!
→
The Biggest Thank You to Partners Who Celebrated the Smallest Science
Here's the NanoDays 2015 Round Up!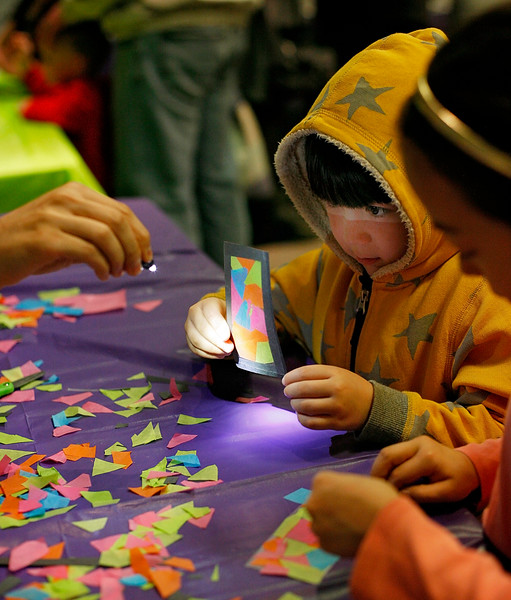 NanoDays media coverage
- Here are some highlights of the national coverage of NanoDays 2015 in news, videos, pictures, and social media!
→ Stay Connected! Upcoming Online Brown-Bag Conversations
Beyond NanoDays - New Ideas for Presenting the Smallest Science
Monday, May 18, 2015
1 pm - 2 pm ET [Sign up]
Everyone loves NanoDays festivities but how do you keep visitors excited about nano the rest of the year? Join this discussion to discover the innovative ways your colleagues are incorporating nano outside of NanoDays such as into nature detective activities, in take-home workbooks shared at public events, and more!

Here are a few recent brown-bag conversations that may be of interest to you, and for even more brown-bag recordings view the online archive.  
→

Join the NISE Network in Attendance at Upcoming Conferences

NISE Network at the American Alliance of Museum (AAM) 2015 Annual MeetingApril 25 - 29, 2015; Atlanta, GA
The NISE Network invites partners to join us for an informal gathering on Monday, April 27th from 5:00-7:00pm to catch up with colleagues and friends, and make new ones! Network partners will also be participating in several sessions at AAM; we hope to see you there [
find out more
].
Association of Children's Museums (ACM) Interactivity 2015
May 13 - 15, 2015; Indianapolis, IN
If you're attending ACM this year, make sure you stop by the NISE Network booth in the exhibit hall on Thursday, May 14th between 7:30am and 4:30pm to visit with partners and learn about future Network opportunities and more!
Special Evening Event: The Children's Museum of Indianapolis - Thursday, May 14th from 6:30-9:00pm - NISE Net activities and information will be featured in the Biotechnology Learning Center. Pre-registration is required.
Don't miss NISE Network partners featured in a number of professional development sessions about engaging the public in nanoscience, engineering, and technology.
FEATURED ON THE WEBSITE
→ 
Oil Spill Clean Up Simulation
- A NISE Net Linked Product short activity features the "nano sand" or "magic sand" product that was originally invented to help with the clean up of oil spills in water, due to the sand's hydrophobic properties. This would be a great activity to pair with April's national events such as
Earth Day
or
National Environmental Education Week
. This product was created by the University California Center for Environmental Implications of Nanotechnology (UC CEIN) at UCLA.
→
Science Writing Workshop: How to tell a story, How to conduct and interview
- A NISE Net Product, prepared by a team of professionals at the Materials Research Society, is a workshop and program designed for researchers, scientists, science educators, and students with an interest in journalism and science writing. This full-day workshop, with a modifiable instructional design, focuses on writing science stories that engage both the general public and other scientists.  
→
With New Nonstick Coating, the Wait, and the Waste, is Over
- Have you ever struggled with squeezing the last drop of ketchup, mayonnaise, or honey out of a bottle, the last of the toothpaste from the tube, or lotion from that container? Researchers from the Massachusetts Institute of Technology have come up with a solution to a problem that has annoyed many of us for so long and that is a coating called LiquiGlide [
see videos
]. This coating makes the inside of the bottle or tube permanently slippery because the lubricant binds more strongly to the textured surface than to the liquid, and that allows for the liquid to slide along the surface with less resistance. The broad range of application provides for significant savings from a sustainability and industrial application perspective by helping to reduce waste, the amount of energy required to push viscous materials through pipes, and in cleaning processes.
→ Rainworks: The Invisible Street Art That Only Appears When It's Wet -
A street-based artist in Seattle has finally found a way to brighten up those dreary, rainy days by creating street art that only appears when it gets wet [
Rainworks video
]. This artist is able to achieve this effect by using superhydrophobic coatings, a waterproofing technology inspired by nature - or biomimicry, often referred to as the Lotus effect. The leaves of the lotus consist of nano-scale papillae that are coated in a hydrophobic wax that repels water, which is similarly how the street art appears when it rains - by repelling water where the coating has been sprayed.
See related NISE Net activities and programs
COMMUNITY NEWS
→ 
Exciting News - The MRS Spring Meeting relocates to Phoenix, AZ beginning in 2016
. This new move will allow for all meeting activities to take place "under one roof" and will provide meeting attendees with many more great networking opportunities with the local informal science education community!
→
  The
National Nanotechnology Initiative (NNI)
would like to invited members of the public to cast their vote for the winning images in the
EnvisioNano Photo Contest
(deadline to vote is April 17th)! Students from labs and schools across the U.S. sent in pictures and descriptions of their research for the chance to win top honors and have their work showcased at TechConnect World Innovation 2015 held in D.C.'s National Harbor and will be featured on NNI's website.
NANO THROUGHOUT THE YEAR - APRIL SHOWERS BRINGS...
→
April is raining down bucketfuls of learning opportunities, just look at all these activities to incorporate nano into! For a more comprehensive list of NISE Net activities, see
NISE Net's list of seasonal activities
.
Nano Haiku submitted by Fahad Rahmat, Milton J. Rubenstein Museum of Science and Technology

It shocked me to see
A cloth bag that can conduct
Electricity!
MEETINGS AND CONFERENCES
Follow the NISE Net on Social Media!
Twitter
Facebook
Linkedin

Read the Nano Bite e-newsletter online at /newsletter/nano-bite-april-2015.

Do you have something you would like to submit for inclusion in the NISE Network Nano Bite monthly e-newsletter? Please send your announcements, articles, or community acknowledgements to Kayla Berry, NISE Net Coordinator, at [email protected].