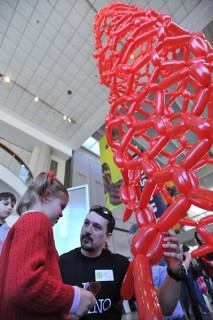 The NISE Network is no longer creating and distributing new NanoDays kits; the last kit we created was in 2015. We encourage you to hold NanoDays events and use NanoDays materials year-round.
Download materials from all NanoDays 2009-2015 digital kits!
NanoDays has grown into a nationwide festival engaging the public in nanoscale science, engineering, and technology – with events taking place at over 250 science museums, research centers, and universities across the country from Puerto Rico to Hawaii. We hope you continue to hold NanoDays events and to use NanoDays materials year-round in ways that enhances your educational programming, meets your institution's needs, and above all, engages your visitors in fun, hands-on science for years to come.
Future Future Dates: (last weekend in March - first weekend in April)
To help in continuing these efforts, we've provided future dates for NanoDays:
2020: March 28-April 5
2021: March 27-April 4
2022: March 26-April 3
2023: March 25-April 2
All NanoDays educational products on the website
NanoDays training videos
NanoDays Digital Kit Archives
NanoDays Past Participants
Social Networking sites (Twitter, Facebook, LinkedIn)
Marketing and Promotional Materials
Need help marketing your NanoDays events?
Check out our Promotional Materials, including logos, artwork, promotional video, and more! 
NanoDays song
Alex Fiorentino, former NISE Net programs team member and Museum of Science Boston Education Associate, sent us this clip of his NanoDays song. Enjoy!