Welcome to the March Nano Bite, the monthly e-newsletter for the Nanoscale Informal Science Education Network (NISE Net).

INSIDE THIS ISSUE
NISE NET NEWS AND ANNOUNCEMENTS!
→
Celebrating NanoDays - A Nationwide Festival: March 28 - April 5
A lot of training and planning goes into NanoDays events, and we want to say thank you to all of our partners who are planning events this year, who have hosted events previously, and who will continue to carry on NanoDays into the future!
NanoDays events can require a lot of help from volunteers, graduate students, professionals, and staff. As smart and enthusiastic as these volunteers are, they're also sometimes new to doing demonstrations and activities with public audiences. The NISE Network has many great resources to help with trainings
and promotion
to make your NanoDays events a great success! Check out:
We would also like to recognize all the NISE Network partners who have been involved in making NanoDays so successful by providing ideas for activities and materials, helping to develop hands-on activities, materials and resources, hosting events, recruiting and training volunteers, providing feedback, and so much more. Thank you!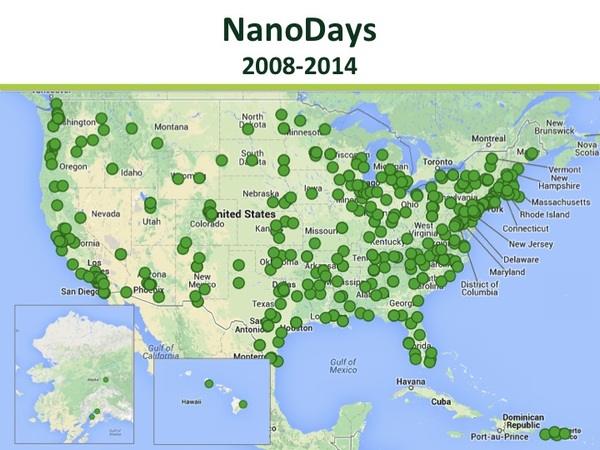 Photo above: NanoDays physical kit distribution map from 2008-2014
 
UPCOMING EVENTS
→
Stay Connected! Upcoming Online Brown-Bag Conversations
Improving NanoDays Trainings with Team-Based Inquiry (TBI) - Partner Examples
Tuesday, March 3, 2015
3 pm - 4 pm ET
[
Sign up
]
Hear from partners who have used team-based inquiry (TBI) to improve their own staff and volunteer trainings around nano. Find out what they've learned, their experiences, and how their knowledge might help you plan your own trainings and/or evaluation.
Pseudoscience and Nanotechnology
Wednesday, March 11, 2015
3 pm - 4 pm ET
[
sign up
]
New science, like nano, can be misused, misconstrued, or co-opted by greed. This conversation will explore how to identify poor science and will examine how the word "nanotechnology" has been used to sell a variety of products. We'll finish with a fun "real-science vs. pseudoscience" game show!
The Science Behind NanoDays 2015 - Part 2Tuesday, March 17, 2015
3 pm - 4 pm ET
[
Sign up
]
In this second in the Science Behind NanoDays 2015 series, Lizzie will discuss the scientific background of two more NanoDays activities and their connection to cutting-edge research:
Exploring Products - Nano Food
and
Exploring Tools - Transmission Electron Microscopes (TEMs)
.
FEATURED ON THE WEBSITE: WATER
→
What's nano about water?
Scientists and engineers are developing filters from nano-sized materials to clean water, helping to reduce most disease-causing organisms, providing drinkable water. With
Groundwater Awareness Week
(March 8-14) and
World Water Day
(March 22) taking place this month, we thought we'd share NISE Net water-themed activities and resources with you!
→
A Nanotech Skylight That Looks Just Like the Sun Shining Overhead
2015 has been a winter to remember for much of the United States. Unpleasant weather has kept many people confined to the indoors for much too long, reducing the amount of time spent outside in the natural sunlight. But imagine if you could feel the effects of the sunshine inside your home or office.
Engineers have tried to replicate the sun's spectrum in light bulbs previously but have missed the mark. However, the developers at CoeLux believe they're spot on. This fixture uses traditional LEDs calibrated to the same wavelengths as the sun but also includes the missing link: materials that mimic subtle atmospheric variations. To accomplish this, CoeLux's inventor, Professor Paolo Di Trapani, uses millimeters-thick plastic peppered with nanoparticles to replicate atmospheric particles and thus casting more realistic artificial sunlight and shadows.
As Paolo Di Trapani states, "imagine the new kinds of buildings enabled by this technology...'groundscrapers,' or buildings that stretch hundreds of feet into the ground might exist, yet don't make you feel like you've descended into a deep, dark cave."
Read the
full article
on this newest invention and to
watch a short video
on the technology.
PARTNER HIGHLIGHT
→
More Than Meets the "I" at Brooklyn Children's Museum
By: Marcos Stafne, Brooklyn Children's Museum
How do you get a science center, technology museum, a national science network, a public library system, a 3D printing service and marketplace, a camera company, and a university research center to work together—you just have to pick up the phone and talk about nanotechnology.
In the spring of 2014, I received a call from a colleague from the Sony Wonder Technology Lab  with an inquiry about co-hosting the
Nano Mini-Exhibition
in New York City. The exhibition was scheduled to land in Manhattan for a year, but due to shifting exhibition schedules, they needed to find a new home for the exhibit—and why not in Brooklyn? I jumped at the chance to host the exhibit and to fill a gap in the exhibition schedule at
Brooklyn Children's Museum
.
We had been working with NISE Network for the past year by hosting our first
NanoDays
and utilizing the Nano kits in afterschool and public programming. It seemed like a natural fit to try and host the mini-exhibition, so with the concept of nano in mind, I started to look for appropriate exhibit pairings to create a larger 1500 square foot exhibition. My goals were to introduce children to the science of understanding the micro-world, and then see how discoveries in these fields lead to technological innovations.
What came together became known as an exhibition called More Than Meets the "I": Exploring the new frontiers of biology, health, robotics, and technology...Utilizing the
Nano
Mini-Exhibition as a catalyst for a larger story about emerging technologies broadened our conversation about what role nanotechnology has at a children's museum.
Continue reading the
full Partner Highlight
to learn about the many collaborations that brought the
Nano
mini-exhibition to life at Brooklyn Children's Museum!
NANO THROUGHOUT THE YEAR - TIME TO "SPRING" FORWARD
→
March is the month we all love because after months of dreary winter weather we (most of us) finally get an extra hour of evening daylight back and what better way to spend that extra light then by doing and learning science !
For a list of nano activities for use throughout the year, see
NISE Net's list of seasonal activities
. 
MEETINGS AND CONFERENCES
Follow the NISE Net on Social Media!
Twitter
Facebook
Linkedin
Read the Nano Bite e-newsletter online at
/newsletter/nano-bite-march-2015
.
Do you have something you would like to submit for inclusion in the NISE Network Nano Bite monthly e-newsletter? Please send your announcements, articles, or community acknowledgements to Kayla Berry, NISE Net Coordinator, at

[email protected]

.