May 5, 2022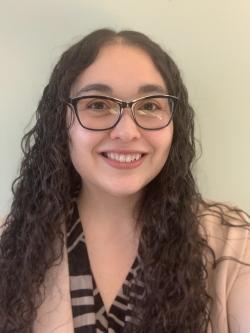 We wanted to let you know about an upcoming change to communications with the National Informal STEM Education Network (NISE Network). We are streamlining our partner communications so that Christina Leavell will become our Community Manager and the primary contact for all NISE Network partners. Going forward, partners in any geographic region can reach out to Christina with any questions, concerns, or stories to share about network projects and opportunities.
The NISE Network website and newsletter remain the best ways to learn about upcoming opportunities, free online workshops, and conference presentations. Below is a list of opportunities and upcoming projects that we are looking forward to over the next few years.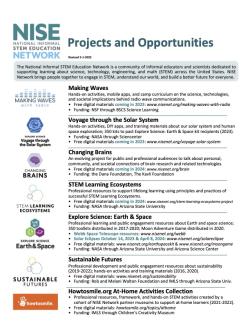 You can also download our most recent one-page flyer summarizing existing resources and upcoming opportunities.
---
Opportunities and upcoming projects
2022: 
Online workshops -

check out the the upcoming schedule of online  workshops (more workshops planned for summer and fall:

https://www.nisenet.org/events

Conferences

- If you are are attending any of these in-person conferences please check out NISE Network related events and activities: 

Resources from the Earth & Space project-based professional learning community of

100 partner organizations participating in the NASA-funded project continue to implement their own projects

focused on making Earth & Space science relevant and inclusive for their local communities.  Even if you or your organization didn't participate, we are making resources available online for anyone to access.

Coming Soon!

Diversity, Equity, Access, and Inclusion

(DEAI) digital tools:

Coming in Summer 2022!

James Webb Space Telescope:

First images are expected summer 2022; public engagement resources available at

https://www.nisenet.org/webb

Changing Brains

will develop a new framework for neuroethics engagement—combining public engagement and neuroethics, looking forward to new activities and programming. This work funded by the Dana Foundation, will also connect the Network with the Civic Science Fellows program.

https://www.nisenet.org/brain
2023:
2024:
Solar Eclipse - April 8, 2024:

we will continue to update our website with resources available from the NISE Network, NASA, and other sources to help you engage audiences in this celebration.

Resources available now at:

https://www.nisenet.org/solareclipse

STEM Learning Ecosystems: Professional resources to support lifelong learning using principles and practices of successful STEM Learning Ecosystems. https:/

www.nisenet.org/stem-learning-ecosystems-project

Digital resources designed intentionally to engage Spanish-speaking and bilingual communities in Earth and space science
---
Stay in Touch!
We value your participation in the network and are so grateful for your incredible work engaging local communities. We look forward to continuing to work together in the future!