---
NEW OPPORTUNITY
---
Apply to host a NASA-supported Webb Space Telescope Community Event — applications due
May 15, 2021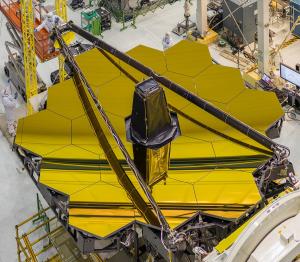 NASA wants to help you celebrate the launch of the Webb telescope, scheduled for October 2021, through the Webb Space Telescope Community Events Initiative. Applications are due May 15, 2021. For more info, visit the NISE Network website and join us for our upcoming May 4th online workshop to learn more and ask any questions you may have about the opportunity.

NASA notice of funding opportunity

NASA Teams Engaging Affiliated Museums and Informal Institutions (TEAM II) is now accepting proposals for two opportunities, including the new Community Anchor Awards for TEAM II (CAAT) to support institutions in establishing themselves as a local NASA STEM informal education community resource. Selected parties will offer NASA education directly aligned with space exploration, aeronautics, space science, Earth science, or microgravity. Eligible proposers include U.S. non-profit science museums, planetariums, youth-serving organizations, and libraries. Proposals are due June 17 and July 19, 2021. Full information here.
 
---
UPCOMING EVENTS
---
Association of Children's Museums | InterActivity 2021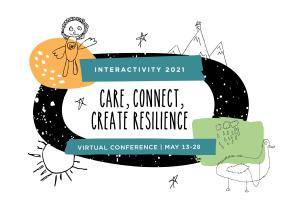 Attending ACM's 2021 virtual InterActivity Conference? Connect with NISE Network at our booth and stop by the How to Make Your Museum Great: Evaluation Your Team Can Do to Improve Your Educational Offerings session on May 27th. For more information visit, nisenet.org/ACM2021. 
 
---
ONLINE WORKSHOPS
---
The NISE Network hosts free online workshops as professional development opportunities for our partners to share with and learn from each other.

Online workshops take place on Tuesdays at 2-3pm Eastern / 11am-12pm Pacific. View upcoming online workshops at nisenet.org/events. 

May 4th, 2021
2-3pm ET | 11am-12pm PT
Engaging audiences in the launch of the James Webb Space Telescope
Learn about the resources that you can use to engage the public in celebration of the launch. We will be joined by members of the Space Telescope Science Institute, who will provide an overview of the science and engineering behind Webb, information about a new opportunity to apply for NASA support for community events, and connections to public engagement activities.
Learn more and register. 

June 8th, 2021
2-3pm ET | 11am-12pm PT
Reconnect and re-engage with the NISE Network - an overview of projects and time to reconnect
Join us for this opportunity to reconnect and re-engage with your NISE Network friends and colleagues. We will have a brief overview of the Network and an update on projects, including an all-new funded opportunity to participate in a project-based professional learning community focused on making Earth & Space science more inclusive and relevant.
Learn more and register.
---
FEATURED ON THE WEBSITE
---
Lunar eclipse on May 25th/26th, 2021
Don't miss the total lunar eclipse late Tuesday night - early Wednesday morning, depending on your location. The NISE Network has compiled a webpage of various resources to help you plan for a lunar eclipse event! nisenet.org/lunareclipse  

Science Fiction, Star Wars, Star Trek, and Super Hero Events | New NISE Network resource page
May 4th has recently become affectionately known as "Star Wars Day". To help celebrate this day and other Science Fiction/Super Hero Events the NISE Network has compiled a webpage of resources aimed to incorporate authentic hands-on STEM experiences. Visit nisenet.or/sciencefiction. 
---
COMMUNITY RESOURCES AND ANNOUNCEMENTS
---
Museums across the country celebrate Earth Day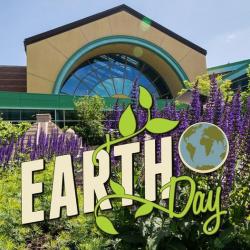 Earth Day 2021 was filled with celebrations held both virtually and in-person. Across the country, museums held a variety of events that were unique to each community and region. From learning how to build a bird feeder at home with the Children's Museum of Indianapolis to a free outdoor Community Science event with the Sciencenter in Ithaca, NY. Partners worked extra hard this year to ensure audiences were engaged and inspired! Read more of how museums across the country celebrated Earth Day 2021. 
New Smithsonian Vaccines&US website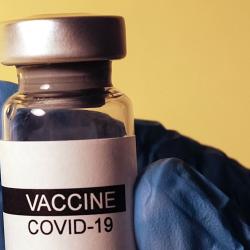 Every one of us has a right to accurate, trusted information. Vaccination impacts you, your family, and your community. This Smithsonian-led collaboration brings together the best available resources about COVID-19 and the vaccines, as well as resources to address many health-related pandemic needs. The Vaccines & US website includes science, history, art music, and practical tips about dealing with COVID-19 in this moment.

2021 Reach Out Science Slams 
Who can tell the best science story in just 3-minutes? 19 early career researchers from around the country were selected to compete in this Museum of Science event. Tune in online and cast your vote in the Reach Out Science Slams to help decide who will win the top prize! The finals will be held on May 4th, 7pm ET | 4pm PT. Follow the link for more information. 
---
PARTNER HIGHLIGHTS
---
Sun, Earth, Universe exhibition and the creation of educational alliances | Arecibo Observatory, PR
Withstanding years of extreme weather and natural events, the Arecibo Observatory unfortunately suffered structural damaged and collapsed in December 2020. In addition to the damage of the radio-telescope, damage was done to the reflector and the Angel Ramos Foundation Science and Visitor Center (ARFSVC). This quickly prompted the ARFSVC team to find partners to help continue the mission of educating and engaging their local community in the importance of the space science work the Arecibo Observatory has been a part of. Read more about trials and work the Arecibo and ARFSVC teams have overcome since 2020.      

The Environmental Learning Center connects students to the Moon and Lagoon | Vero Beach, FL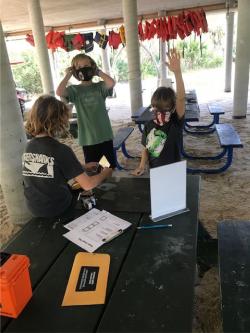 The Environmental Learning Center (ELC) adapted its homeschool program, Lagoon Academy, to a fully outdoor and COVID-friendly format. The immersive experience, themed "From Moon to Lagoon", challenged learners to imagine how life on the Earth is affected by the Moon and featured several activities inspired by the NISE Network's Earth and Space toolkit. Read more about ELC's Lagoon Academy and its transition to a fully outdoor experience! 

Arizona Science Center reopens and connects guests to space science with the Moon Adventure Game
When COVID-19 hit, Arizona Science Center got creative and designed new ways for members and guests to be able to safely visit the Science Center. For example, connecting the Moon Adventure Game to the small-group Space Explorer Guided Experience gave visitors a chance to see what it truly takes to be an astronaut. Read more about how the Arizona Science Center has re-imagined ways for guests to safely visit and explore!  
---
SCIENCE IN THE NEWS
---
Earth and Space News
Ingenuity completes its fourth flight. Monday, April 19 2021 was Ingenuity's first flight and the first demonstration of controlled flight on another planet. Since then, the NASA Ingenuity team has successfully completed four more flights.

Glaciers are melting faster than they did 15 years ago, study shows. Using 20 years of recently declassified satellite data, scientists have calculated that glaciers are losing over 300 billion tons of snow and ice per year since 2015. Half of the world's glacier loss is coming from the United States and Canada.
Chemistry News
Pfizer begins human trials of new pill to treat coronavirus. If successful, this would be another important tool in the fight against COVID-19. The pill could be prescribed early in an infection to block viral replication. 

Synthetic Biology News
The first genetically modified mosquitoes released in the U.S. to buzz in the Florida Keys. With the goal of controlling mosquito populations below any sort of disease transmission threshold, scientists have released genetically modified mosquitoes in the Florida Keys.

Sustainability News
Artificial glaciers against drought. Water is scarce high in the northern Indian mountains. Engineers have developed a way to store glacier melt as cones of ice that slowly melt over the spring and early summer, to ensure farmers and villages have water. 

Nanotechnology News
Self-folding nanotech creates world's smallest origami bird. Cornell University researchers have created micron-sized shape memory actuators that allow thin materials to fold themselves into 3D shapes. Helping progress technology that could lead to machines that are as small as cells.
---
STEM THROUGHOUT THE YEAR
Discover activity ideas for incorporating current science, engineering, and technology content into events, special programming, holidays, and seasonal activities by visiting http://www.nisenet.org/seasons/.


May
Asian American and Pacific Islander Month

National Physicals Fitness and Sports Month

NASA's Night Sky Network - 

Monthly astronomical events
SciStarter Citizen Science Calendar

of events

5/3-5/9: National Children's Book Week

5/4: May the Fourth be with You

5/10-5/16: Astronomy Week

5/16: International Day of Light

5/17-5/23: National Week of Making

5/18: International Museum Day

5/20: Global Accessibility Awareness Day

5/26: Lunar Eclipse

5/26: National Paper Airplane Day
​June
Pride Month

6/5: World Environment Day

6/8: World Oceans Day

6/19: Juneteenth

6/20-6/26: National Mosquito Control Awareness Week

6/23: International Women In Engineering Day

6/30: Asteroid Day
---
NATIONAL MEETINGS AND CONFERENCES
Virtual Association of Children's Museums (ACM) 2021 InterActivity
May 13-28, 2021
Stay current on ACM 2021 updates

Visitor Studies Association Conference 2021
July 13-15, 2021
Stay current on VSA 2021 updates

Virtual Association of Science-Technology Centers (ASTC) 2021 Annual Conference
October 5-7, 2021
Stay current on ASTC 2021 updates

National Science Teaching Association (NSTA) Conferences
Learn more about upcoming conferences