SEPTEMBER 2023     
---
NETWORK NEWS
---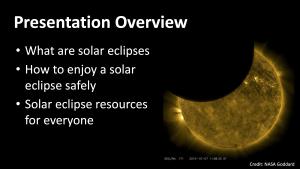 Preparing for Solar Eclipses - New Slideshow and Workshop Recording Now Available!

Two major solar eclipses are coming to North America on Saturday, October 14, 2023 and Monday, April 8, 2024. Even if you are not located on the path of totality, people throughout North America will be able to see a partial eclipse.
A new editable slideshow presentation with detailed presenter notes is now available for you to use for training volunteers and staff, as well as with public audiences for both the 2023 and 2024 solar eclipses.
• Slideshow: nisenet.org/solareclipseslides
• Online workshop recording (recorded 9/12)
• More resources: nisenet.org/solareclipse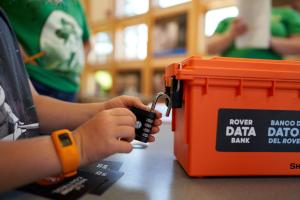 Moon Adventure Game Summative Evaluation Report Reveals Public and Professional Impacts
 
A summative evaluation study of the Moon Adventure Game was recently completed focusing on impacts of the game on participating public and professional audiences. The study found after playing the game people are more interested in Moon and space science and have a stronger sense of science identity. 
Learn more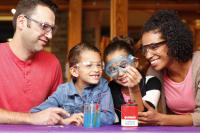 Twenty Years of Nanotechnology! Opportunity to engage your community with NanoDays activities
 
This year the National Nanotechnology Initiative (NNI) community will celebrate the 20th anniversary of the 21st Century Nanotechnology Research and Development Act, which authorized the creation and funding of the NNI. This is a great opportunity to engage your local community with NanoDays activities!
Learn more
---
UPCOMING EVENTS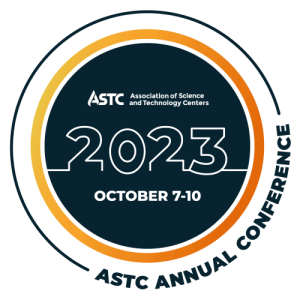 ASTC Conference 
If you are attending the ASTC Conference October 7-10th, we hope to connect with you in person in Charlotte! Please join us for:
• Networking Happy Hour, Friday, October 6th, 7:30pm
• Booth (#801) Saturday & Sunday October 7th & 8th
• Many NISE Network project-related sessions
See all the details at nisenet.org/astc2023
 
Online Workshops
The NISE Network hosts free online workshops as professional development opportunities for our partners to share with and learn from each other. Online workshops take place on select Tuesdays at 2pm-3pm Eastern. View upcoming online workshops at nisenet.org/events
---
PARTNER HIGHLIGHTS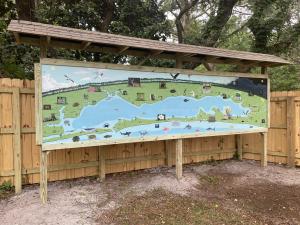 Choctawhatchee Bay Estuary Mural at the Emerald Coast Science Center, Fort Walton Beach, Florida
Harley Peters of the Emerald Coast Science Center, took the time to share more about an exciting project that started with the NISE Network's Earth & Space Project-Based Professional Learning Community. They worked with local artist and museum community partner, Andrew Wargo, to create a piece for guests to learn about the importance of the waterways in this area and how we can protect these waterways as well as the plants and animals found around them.
Learn more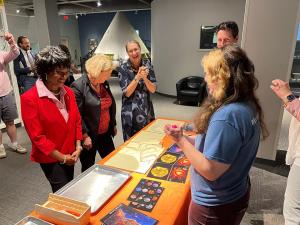 Special Guests Drop by the Museum of Life and Science to Learn more about Initiatives to Engage Hispanic Communities in Durham, NC
On August 30, 2023, Congresswoman Valerie Foushee and NASA Deputy Administrator Pam Melroy paid a special visit to the Museum of Life and Science (MLS). The goal of the visit was to draw attention to the pivotal role that museums and science centers play in fostering learning, innovation, and collaboration within local communities. Congresswoman Foushee and Deputy Administrator Melroy discussed the vital work MLS is currently participating in to strengthen STEM education and informal science learning, especially within Spanish-speaking communities. 
Learn more
---
FEATURED ON THE WEBSITE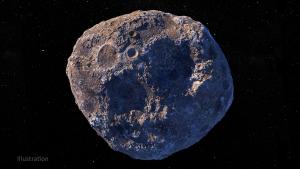 Meteorites and Asteroids
NASA's OSIRIS-REx will return to Earth on September 24, 2023 with material from asteroid Bennu; the Psyche mission to a metal asteroid launch window opens in October 2023, and the Lucy spacecraft will encounter its first target November 1, 2023.
nisenet.org/asteroids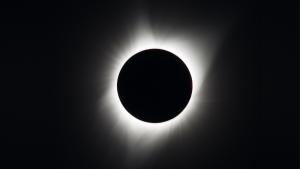 Solar eclipse resources
Two major solar eclipses are coming to North America on Saturday, October 14, 2023 and Monday, April 8, 2024. Even if you are not located on the path of totality, people throughout North America will be able to see a partial eclipse.
nisenet.org/solareclipse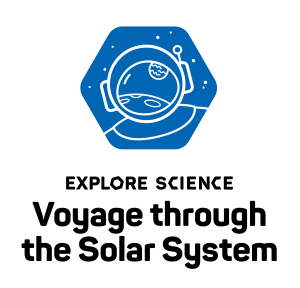 Voyage through the Solar System activities
Hands-on activities and DIY apps
Digital resources available for download
DIY Solar System app
Recorded NISE Network online workshops
View the recordings and resources from past NISE Net online workshops:
Looking for an easy way to discover resources on the nisenet.org website?
Check out our "Browse by Themes and Topics," featuring curated collections of hands-on activities and resources by themes and STEM topics: nisenet.org/browse-topic
---
COMMUNITY RESOURCES AND ANNOUNCEMENTS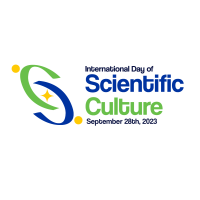 International Day of Scientific Culture (IDSC)
This annual event on September 28th aims to highlight the importance of scientific culture in today's world; and celebrate activities and institutions that provide spaces for people to make science a relevant part of their lives.
Learn more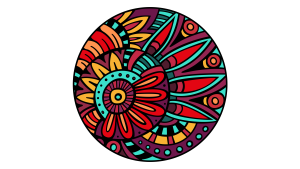 Are you ready for Cambio?
Cambio–meaning "change"–aims to advance equity in museums through a yearlong, NSF-funded professional development program. Apply for this funded year-long professional development program by November 1.
Learn more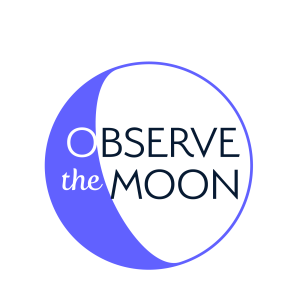 International Observe the Moon Night
On October 21, 2023 everyone on Earth is invited to learn about lunar science and exploration, take part in celestial observations, and honor cultural and personal connections to the Moon. 
Learn more
NISE Network Moon resources
---
---
SCIENCE IN THE NEWS
---
SCIENCE FUN NEWS
The Ig Nobels are a good-natured parody of the Nobel Prizes; they honor "achievements that first make people laugh and then make them think." This year's award winners include projects explaining why many scientists like to lick rocks, reanimating dead spiders to use as mechanical gripping tools, and experiments to determine how electrified chopsticks and drinking straws can change the taste of food.
---
CHEMISTRY NEWS
The invention of Kevlar has saved countless lives over the past 50 years. Kevlar is a fiber five times stronger than steel that is now used in numerous products ranging from boots for firefighters to spacecraft — and most famously, in bulletproof vests. Learn more about chemist and inventor Stephanie Kwolek.
NISE Network resources: 
• Explore Science: Let's Do Chemistry Kit
SYNTHETIC BIOLOGY NEWS
Three decades ago, Michael Crichton's book Jurassic Park presented readers with the tantalizing question of whether a dinosaur could be brought back to life. Today, the prospect of revival is no longer fiction: scientists are hard at work attempting to "de-extinct" woolly mammoths.
NISE Network resources: 
• Building with Biology activities
---
SPACE NEWS
The South Pole of the Moon is the coolest place to be. And nearly every country with a space program is vying for a spot there - for a chance to explore the shadowy, polar craters in hopes of finding usable quantities of water ice.
NISE Network resources: 
• Voyage through the Solar System: Build a Moon Base Camp
---
NEUROSCIENCE & NANOTECHNOLOGY NEWS
The controversial biotechnology startup Neuralink opened up recruitment for its first human clinical trial. The study focuses on brain implants to paralysis patients who will have a chip surgically placed in the part of the brain that controls the intention to move.
NISE Network resources: 
• Brain and Neuroscience resources
---
RADIO WAVES &
SPACE NEWS
After observing stars called pulsars throughout our galaxy, the NANOGrav collaboration has "heard" gravitational waves rippling through our universe. Much of this gravitational wave background is probably caused by pairs of supermassive black holes as they spiral toward collision. 
Learn more in these interviews with scientists
NISE Network resources: 
• Electromagnetic spectrum resources
---
CLIMATE CHANGE NEWS
Yale Climate Change Communication has released its new report Climate Change in the American Mind. Majorities of Americans think global warming is affecting many environmental problems in the United States including extreme heat (75%), rising sea levels (72%), wildfires (71%), droughts (71%), flooding (69%), water shortages (69%), hurricanes (68%), air pollution (67%), tornados (66%), reduced snow pack (62%), agricultural pests and diseases (61%), water pollution (60%), and electricity power outages (58%). The full report also looks at how Americans perceive the risks and how often they talk about global warming with family and friends. 
NISE Network resources: 
---
 SUSTAINABILITY NEWS
Scientists at Purdue have created the whitest of white paint that, when applied, can reduce the surface temperature on a roof and cool the building beneath it.
NISE Network resources: 
---
STEM THROUGHOUT THE YEAR
Discover activity ideas for incorporating current science, engineering, and technology content into events, special programming, holidays, and seasonal activities by visiting: nisenet.org/seasons
September
Back to School resources related to pencils, graphite (Fall)
October
Metric Day (October 10)

Indigenous Peoples' Day (Second Monday in October) - celebrate people in STEM

Solar Eclipse (October 14)

National Chemistry Week (October 15-21) and Mole Day (October 23)

Halloween (October 31)
---
NATIONAL MEETINGS AND CONFERENCES​​​