January 10, 2022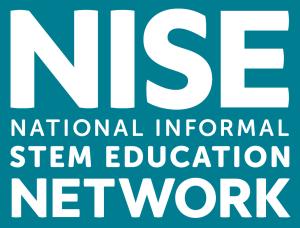 The year 2021 was challenging for many of us individually, as well as for our organizations and communities. We are so impressed with how NISE Network partners have continued to  creatively address ongoing challenges and offered suggestions and assistance to one another during the COVID-19 pandemic. We have all been adapting to changing health and safety conditions while still continuing to engage the public in STEM in-person and online. 
We know that many of you have changed employers or are seeking new opportunities due to the ongoing financial pressures and disruption of the pandemic; wherever you are, please do continue to stay in touch with the NISE Network community. We always appreciate hearing from you!
Despite all these challenges, NISE Network partners have continued to engage the public nationwide in STEM. Here are some highlights from 2021.
---
Partners engaging the public in 2021:
Mars Rover landing in February 2021
Museums all over the United States celebrated the NASA Perseverance mission and landing with a variety of public engagement programs both in-person and online.  Programs covered a variety of content focused on the science behind the mission, the engineering to land the mission, and past and future exploration on Mars.
Read More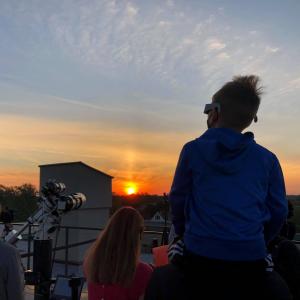 Solar Eclipse in June 2021 
Community members, science enthusiasts, astronomy lovers, and stargazers gathered in parks and on rooftops, virtually and in-person to look to the skies and celebrate the annular solar eclipse. 
Read more about partner events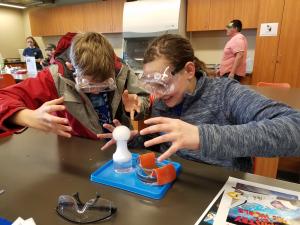 Design, Build, Test activity
at the Sierra Vista Library
Webb Space Telescope event 
Photo courtesy of
Patterson Observatory Sierra Vista AZ

James Webb Space Telescope launch community events - Fall 2021
James Webb Space Telescope (JWST) community events have been in full swing across the country this fall! Here are highlights from just a few of the Webb Community Events that have been taking place nationwide over the past few months. 
Moon Adventure Game
Photo courtesy
South Dakota Discovery Center
Pierre, SD

Moon Adventure Game has been used in so many different ways by partners including:
---
Professional learning 
90 Partner organizations have been participating in the IMLS-funded Sustainability Fellowships in cohorts D, and E, while cohort F is starting up in January 2022; These fellowships support museums and similar cultural organizations in their efforts to integrate sustainability into all aspects of their institution, including decision-making, operations, programs, and community partnerships
11 Partner organizations have participated in the Howtosmile IMLS-funded project designed to create an at-home activities framework and catalog representative at-home STEAM activities
Conference presentations were attended by many people! Presentation slides for many of these sessions are available on our website including:
---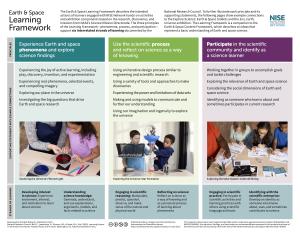 New products featured on the nisenet.org website include: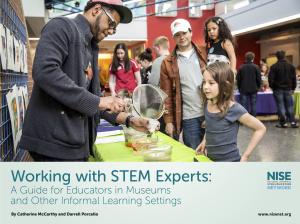 Working with STEM Experts guide
Professional development guide to help informal STEM educators find, prepare, and work with STEM experts to engage with the public.
Sustainable Futures Professional Development Resources 

Professional development training tools to prepare educators to plan and implement sustainability projects and facilitate sustainability activities.
---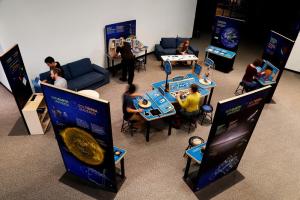 Exhibitions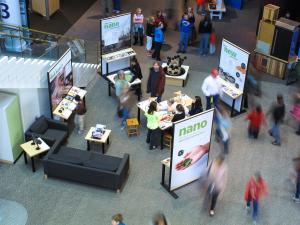 Learn more about the Nano exhibitions that are now ten years old and how copies are still finding new audiences at new museums.
If you are looking for a copy of either exhibition or looking to find a new home for your copy, contact your regional hub leader and we can add you to a waiting list to match you with a copy https://www.nisenet.org/contact
---
Looking Ahead
2022: 
5 Online workshops scheduled for the next six months: https://www.nisenet.org/events
Sustainability Fellowships support museums and similar cultural organizations in their efforts to integrate sustainability into all aspects of their institution, including decision-making, operations, programs, and community partnerships; cohort E is continuing their work, and cohort F starts in 2022
https://www.nisenet.org/sustainability
Earth & Space project-based professional learning community of 100 partner organizations participating in the NASA-funded project focusing on making Earth & Space science relevant and inclusive for their local communities
https://www.nisenet.org/earthspaceprojects2021
James Webb Space Telescope first images are expected summer 2022 - NASA community event opportunities to celebrate these First Light (Early Release Observation) images; stay tuned for more opportunities to hold community events this summer 
https://www.nisenet.org/webb
Changing Brains will hold stakeholder meetings on a new framework for neuroethics engagement—combining public engagement and neuroethics, looking forward to new activities and programming. This work funded by the Dana Foundation, will also connect the Network with the Civic Science Fellows program. https://www.nisenet.org/brain
Diversity, Equity, Access, and Inclusion (DEAI) digital tools
2023:
Build a Mars Habitat exhibit component addition to the Sun, Earth, Universe exhibition
https://www.nisenet.org/mars-habitat-project
Destination Moon activities and new DIY mobile app (we are anticipating 350 physical toolkits to be delivered to recipients of Explore Science: Earth & Space 2020 toolkits in 2023)
MakingWaves hands-on activities that explore radio technologies and their connections to society will be made available on nisenet.org. These activities will be attached to a larger set of digital tools created by partners including mobile apps and an in-depth camp curriculum. 
2024:
---
Stay in Touch!
Share your stories with us! Contact your regional hub leader to be featured in the newsletter and highlight the amazing work you're doing. Check out past partner highlights for examples: https://www.nisenet.org/blog
New to the NISE Network? Check out Getting Started https://www.nisenet.org/gettingstarted
Face to Face! We look forward to being able to interact and see each other as health and safety conditions allow